Crazy for You & 42nd Street | Live Show Reviews
Marianka Swain
Friday, September 1, 2023
Nothing hits home quite like that magnificent exchange between a brassy band and the silvery ring of tap shoes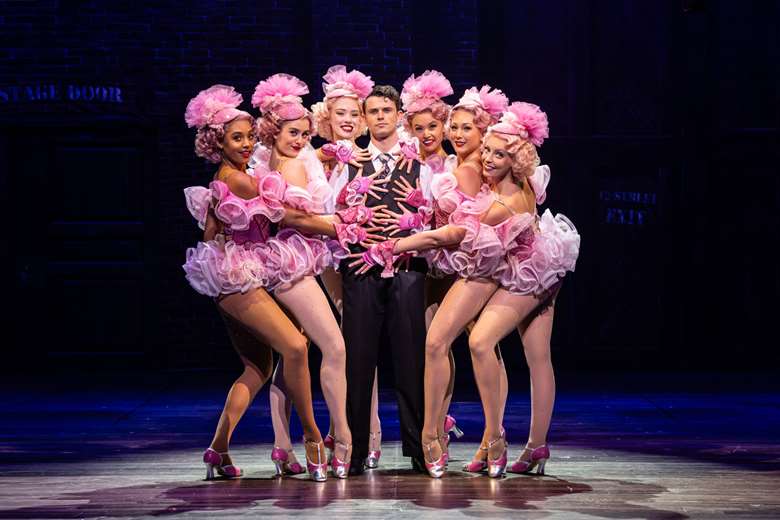 Come and meet those dancing feet! That exhortation could apply equally to two musicals that tapped their merry way into London this summer: 42nd Street, which began life at Leicester Curve, and Crazy for You, which has transferred from Chichester Festival Theatre.
This joyful, fleet-footed pair have plenty in common. Both are set during the Depression and feature ingenues struggling to break into showbusiness: 42nd Street's small-town gal Peggy Sawyer, who misses her big audition for a Broadway musical through nerves, and Crazy's Bobby Child, who, in trying to wow Follies boss Bela Zangler (read: Florenz Ziegfeld), stomps on the famous impresario's foot.
Brilliantly complemented by David Krane's arrangements, Stemp can also articulate every punchy accent, every lush, sweeping phrase
Both also feature gorgeous Art Deco styling and gleefully nonsensical plotting – disguises, coincidences and misunderstandings aplenty – balanced with a serious respect for the awesome power of art. Whether a dream career, a much-needed source of income, a unifying endeavour, or a means of personal expression and liberation, dance is an almighty force.
That applies to audiences, too, particularly those lucky enough to be at the Gillian Lynne Theatre, where Crazy for You has taken up residence – and how fitting that it should be at the venue named for a great choreographer. I didn't think it was possible to top the Barbican production of Anything Goes (by another American great, Kathleen Marshall), but somehow Susan Stroman has done it with this maximalist fantasia.
Essentially a George and Ira Gershwin jukebox musical, but a superior example of the genre, in 1992 Ken Ludwig expertly spliced together some of the brothers' most irresistible songs into a new but oft-used narrative – the 'We'll put on a show to save the theatre!' plot familiar from Mickey Rooney and Judy Garland movies.
In this case, it's a dilapidated playhouse in Deadrock, Nevada, a backwater town left to rot after gold miners had their fill. Reluctant banker Bobby is sent there to foreclose on the theatre, but he falls for the owner's daughter, Polly, instead and – disguised as Zangler – he recruits the Follies girls to revitalise it.
42nd Street – The Company (photo: Johan Persson)
The key message here (one we all learnt the hard way during Covid) is that culture is the heart and soul of our communities; without it, they wither away. Once everyone is swept up in mounting a show, Deadrock residents rediscover their joie de vivre, plus these cowpokes happen to have some mighty smooth moves.
In Stroman's remarkable production, dance is a core foundational element of the storytelling, and she's found the perfect muse in the astonishing Charlie Stemp. He can do the rubber-limbed clowning of Donald O'Connor, falling flat on his face after stumbling through the desert, only to levitate in love-struck fashion when he sets eyes on Polly.
His skittering down the stairs while drunk is peerless physical comedy, leading into an uproarious Marx Brothers-style mirroring number with a likewise remarkable Tom Edden as Zangler. 'I am beside myself,' is just one of the deliriously groan-worthy puns on offer; the fizzing one-liners pop like Champagne corks.
Brilliantly complemented by David Krane's arrangements, Stemp can also articulate every punchy accent, every lush, sweeping phrase. In one nifty duet, he and Carly Anderson's initially hostile Polly travel through wary, combative movement, thawing into delectable Fred and Ginger ballroom, and then the world falls away as she expresses her trust in him through lifts and balances until we get a swooning kiss.
Throughout, Stroman balances these loving homages with thrillingly inventive work. Laura Hills's showgirl Mitzi will not just tap on a tabletop, but somehow do so en pointe; 'Slap That Bass' sees dancers turned into instruments with just a piece of rope; and the show-stopping, roof-raising 'I Got Rhythm' finds music in a jug, hammer and saw, turns corrugated iron into tap platforms, and sees girls lifted aloft with pickaxes.
Song and movement express character, too. It's the only time when the fiercely independent Polly, played with heartfelt conviction by Anderson, allows herself to open up – sending tunes like 'Someone to Watch Over Me' soaring, or melting into Bobby's arms. As the latter's rejected fiancée, Natalie Kassanga utterly dominates the grumpy local innkeeper in 'Naughty Baby', felling him with her sultry voice and then throttling him with her thighs. Even Sam Harrison and Rina Fatania's buffoonish British visitors get a cheery stiff-upper-lip number.
The set, costumes and lighting (by Beowulf Boritt, William Ivey Long and Ken Billington respectively) create a shimmering Golden Age MGM heaven: the glittering Follies headdresses, the silky frocks and gloves, the vast pink skies. Even the tumbleweed is perfectly choreographed.
Few shows can come close to Stroman's level of sheer spectacle, although the epic revival of 42nd Street at Theatre Royal Drury Lane in 2017 came close. Jonathan Church's current touring version, which stopped off at Sadler's Wells for the summer, is necessarily far more modest in scale, and thus more reliant on its cast to sell the endearingly silly material.
This is another jukebox show, formed in 1980 by Michael Stewart and Mark Bramble from the 1933 Hollywood movie of the same name, plus songs by Al Dubin, Johnny Mercer and Harry Warren written for other titles too. It's in the fine tradition of the backstage musical: imperious director Julian Marsh is putting on a new show, Pretty Lady, and there is no margin for error. It's this or the breadline.
Marsh is at war with his star, diva Dorothy Brock, whose sugar daddy is also the production's key backer. Since she can't dance, Marsh is forced to build numbers artfully around her. In fact, that particular plot point is rather upended here by Ruthie Henshall's towering performance; even in a wheelchair, her Dorothy is magnetic. Henshall also puts the numbers over with fabulous dramatic flair, if somewhat variable tuning.
But we must believe that newcomer Peggy is a worthy successor – and a luminous turn from Nicole-Lily Baisden (who was also charming in that Barbican Anything Goes) absolutely ensures that we do. Bill Deamer's choreography, if not quite so jaw-dropping as Stroman's in the ensemble numbers, is wonderfully expressive during individual moments. Baisden's tapping looks and sounds like nobody else's: eager, crystalline and utterly irrepressible.
Adam Garcia comes alive when he's dancing, but otherwise feels miscast as Julian; he just doesn't have that ruthless authority. Les Dennis is sadly befuddled as co-writer Bert, and Sam Lips is absolutely precise but devoid of any personality as tenor Billy. Happily, Josefina Gabrielle is an absolute hoot as Bert's partner Maggie, and Alyn Hawke is a standout as dance director Andy.
Robert Jones supplies detailed multi-hued period costumes, Ben Cracknell's lighting is wonderfully moody (especially the red wash for '42nd Street'), and Jon Driscoll's projections help to establish location efficiently if not terribly inventively.
But 42nd Street is really about the songs: 'We're in the Money', 'Lullaby of Broadway', 'I Only Have Eyes For You', the climactic title number. As with Crazy for You, nothing hits home quite like that magnificent exchange between a brassy band and the silvery ring of tap shoes. It was a tonic back in the '30s, and so it proves again now.
---
Production credits – Crazy for You
Cast Charlie Stemp, Carly Anderson, Tom Edden, Natalie Kassanga, Mathew Craig, Rina Fatania, Sam Harrison, Kayleigh Thadani, Laura Hills et al
Direction, choreography Susan Stroman
Musical direction Alan Williams
Orchestrations Mark Cumberland, Doug Besterman, William David Brohn
Arrangements David Krane
Set Beowulf Boritt
Lighting Ken Billington
Sound Kai Harada
Costumes William Ivey Long
---
Production credits – 42nd Street
Cast Ruthie Henshall, Nicole-Lily Baisden, Adam Garcia, Josefina Gabrielle, Les Dennis, Sam Lips, Michael Praed et al
Direction Jonathan Church
Musical supervision Jennifer Whyte
Musical adaptations, arrangements, additional orchestrations Donald Johnston
Choreography, musical staging Bill Deamer
Set, costumes Robert Jones
Lighting Ben Cracknell
Sound Ian Dickinson, Gareth Tucker
Projections Jon Driscoll