A Strange Loop | Live Show Review
Matt Wolf
Friday, September 1, 2023
For those willing to take the psychic journey on offer, this remains a singular and wonderful show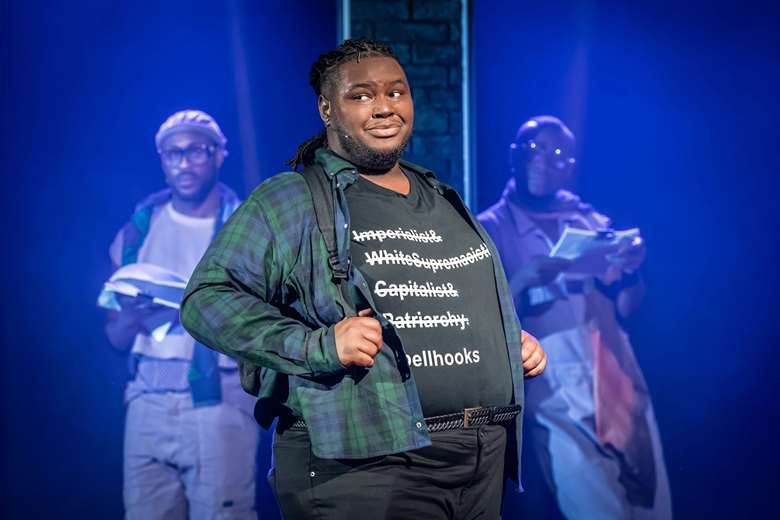 Oon the face of it A Strange Loop is certainly an odd choice to take the coveted summer musicals slot at the Barbican filled two years running by an earlier Broadway export, the Kathleen Marshall-directed revival of Anything Goes.
Unabashedly candid in subject matter and language, Michael R Jackson's Pulitzer Prize winner is on record for having the second- shortest Broadway run ever for a Tony-winning musical – Stephen Sondheim's Passion remains the shortest. And if such plaudits weren't enough for the musical to take the town in the city where it is set, how would the material fare across the Atlantic, and in an auditorium notably bigger than its Broadway perch?
Jackson's enquiry into the twin pathways of life and art is even more affecting here
The answer, happily, is exceptionally well, notwithstanding much the same issues with muddy sound and diction that were evident when I caught the New York version last August. Recast entirely with British-based talent, with the exception of its extraordinary lead, Kyle Ramar Freeman, Jackson's enquiry into the twin pathways of life and art is even more affecting here. Some will dismiss the results as an extravagant essay in navel-gazing, but for those willing to take the psychic journey on offer, this remains a singular and wonderful show.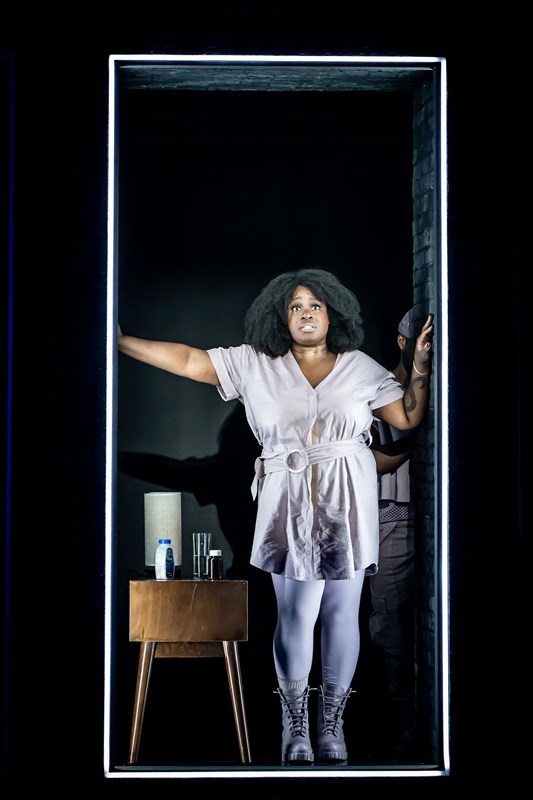 Sharlene Hector (photographer Marc Brenner)
A study in an attempt to align the fragmented self, the show tells of a plus-sized Black gay man who goes by the name Usher and has worked – surprise! – as an usher at the Broadway production of The Lion King: a job Jackson, the show's creator, himself once held. (As geography would have it, this musical's Broadway venue, the Lyceum, is just minutes away from the New York home of Simba and pals.) Even as Usher settles patrons into their seats, he yearns of writing his own musical about a Black gay man called Usher who is writing a musical about… Well, you get the drift.
In essence, A Strange Loop is a metatheatrical fantasia specifically rooted in individual experience that, as such, exists at a complete remove from the cultural landscape of Tyler Perry. Who is he, some may be wondering? No less than the Black billionaire filmmaker who hangs over the piece like an ever-pernicious rebuke, given that his stratospheric success occupies a realm of no use or interest to Usher, whose art comes from a purer, infinitely more introspective place.
The show's brilliant conceit is to personify Usher's conflicted psyche via six highly individuated Thoughts, who encompass a broad sexual, social and domestic landscape on the way to an ending that seems to come to rest with a Hamlet-like acknowledgment on the part of Usher simply to let be. (Among that sextet, special plaudits to the ravishing Sharlene Hector, as a Lion King playgoer who fully lands her defining scene.)
Along the way, Jackson's gorgeous and varied score manages to be pointed, funny and infinitely poignant, Usher's ruminations on his own sometimes-scary absence of boundaries writ large. A gospel number late on insists upon Aids as 'God's punishment', and the British audience, thank heavens, is far quicker off the mark than the Broadway one was on the dark heart of this particular song: you can feel the clap-happy vibe stopping dead in its tracks as the import of the lyrics sinks in.
Freeman, a one-time alternate for Jaquel Spivey on Broadway, is a marvel – angrier and more savage in defence of his art and purer and more innocent in an ongoing quest that never curdles into self-pity. He soon departs the production to begin rehearsals for the Cowardly Lion in the forthcoming Broadway revival of The Wiz: Kyle Birch, Freeman's own alternate, takes over for the last month of a run that continues to revolve teasingly in my own thoughts – a most miraculous loop, indeed.
Buy tickets for A Strange Loop
---
Production credits
Cast Kyle Ramar Freeman, Nathan Armarkwei-Laryea, Danny Bailey, Eddie Elliott, Sharlene Hector, Tendai Humphrey Sitima, Yeukayi Ushe
Direction Stephen Brackett
Music direction Rona Siddiqui
Orchestrations Charlie Rosen
Choreography Raja Feather Kelly
Set Arnulfo Maldonado
Lighting Jen Schriever
Sound Drew Levy
Costumes Montana Levi Blanco