Operation Mincemeat | Live Show Review
Matt Wolf
Friday, July 7, 2023
A take-no-prisoners knees-up that can be both knockabout and surprisingly moving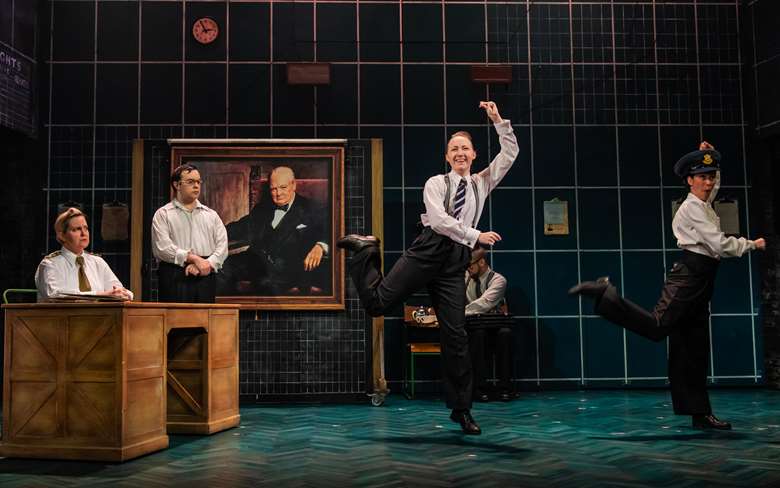 As proof that super shows can come in small packages, it's a pleasure to welcome Operation Mincemeat to a West End too often characterised by musical bloating. And how nice to see this oddly touching historical musical in an enlarged production from directorial maestro Robert Hastie (Standing at the Sky's Edge) that nonetheless retains the quirky sensibility that from its inception has given this long-gestating venture its spark.
The West End upgrade results in a scenic razzmatazz that would have been unlikely on the fringe while giving such real-life personages as Ewen Montagu and Ian Fleming their due
I first caught the show at a sold-out matinee during one of three runs at Southwark Playhouse, following on from its 2019 premiere at the New Diorama (who commissioned it) but before its further berth last year at the Riverside Studios. This leapfrogging about town represents astute producing on the part of Avalon, the comedy mavens returning to Musical Theatre for the first time since Jerry Springer: The Opera and working here in close and careful collaboration with SpitLip, the quartet whose debut show this is.
The result has not only brought a new tenant to a bijou playhouse (the Fortune Theatre) occupied for more than 30 years by its own slow-aborning success story, The Woman in Black, but rebuffs in a single stroke those worried that London musicals exist merely to honour one or another back catalogue or film titles often lazily displaced to the stage.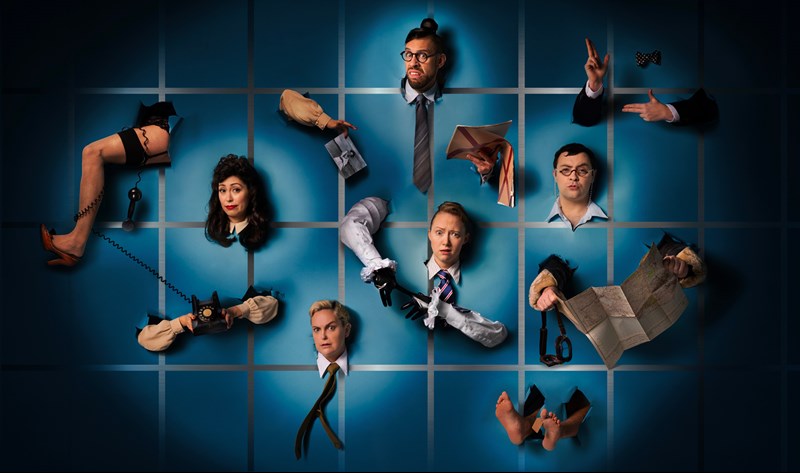 In fact, a film treatment of this same material came (and pretty much went) during the period Operation Mincemeat was inching towards the commercial arena. But a second encounter reminds one afresh of the authorial finesse (on book, music and lyrics, no less) of the SpitLip quartet, three of whom are in the show itself: only Felix Hagan maintains an offstage presence.
My father worked in intelligence at Bletchley during World War Two and would have thrilled to this freewheeling take on a peculiar story indeed: a study in subterfuge and confused identity on the Italian Front that had a decisive effect on the war, even as it here allows for a gender-flipped, take-no-prisoners knees-up that can be knockabout and larky one minute, surprisingly moving the next (I know I wasn't alone in emerging a tad moist-eyed at the finish).
At first, one wonders whether a suffocating archness may prevail: the sort of thing that might seem clever at an end-of-term Oxbridge revue but that can soon pall. In fact, the quicksilver ease of the five performers – Jak Malone and Claire-Marie Hall join the three SpitLip begetters – turns the show into a study in showmanship: you exult in the speed with which the actors depart from their main tracks to tackle other nationalities, ages and genders.
And when Malone, playing a sweet-souled secretary, deliberately slows the pace to sing a plaintive number called 'Dear Bill', you feel as if you're watching an Olivier Award in the making. After all, Sheridan Smith won her second Olivier in comparable epistolary circumstances in the Terence Rattigan play Flare Path, premiered around the time this show is set.
The score traverses periods and styles to accommodate audiences of all ages (the Hamilton brigade isn't ignored), just as the invaluable Cumming's topknot look lends a hipster quality to proceedings that keep one foot in Noël Coward and Monty Python while advancing with the other towards the modern day.
We hear the determination of those 'Born to Lead', as the opening number puts it, alongside patter songs and sea shanties that pause to reference the biological properties of a newt one minute and the ingredients needed for sangria the next.
The West End upgrade results in a scenic razzmatazz that would have been unlikely on the fringe while giving such real-life personages as Ewen Montagu and Ian Fleming their due.
The Second Act begins with a Producers-esque extravaganza that leads with time to the sort of exultant finale ('Did We Do It?') of which that show's Max Bialystock would be proud. I don't know if this show will last 33 years at this address, as The Woman in Black did before it (at the time of writing, the initial booking period was only until 19 August), but I can't imagine a giddier way to pass the night – or, just maybe, many years.
To book tickets visit here
---
Production credits
David Cumming, Felix Hagan, Natasha Hodgson, Zoë Roberts (SpitLip) music, lyrics, book
Fortune Theatre, London 29 March – 24 February 2024
REVIEWED ON 9 MAY 2023
Cast Natasha Hodgson, David Cumming, Zoë Roberts, Jak Malone, Claire-Marie Hall
Direction Robert Hastie
Musical direction Joe Bunker
Choreography Jenny Arnold
Set, costumes Ben Stones
Lighting Mark Henderson
Sound Mike Walker