Sweeney Todd (2023 Broadway production) | Live Show Review
Thom Geier
Tuesday, June 13, 2023
This is also arguably one of the best-sung productions of Sweeney Todd ever mounted, led by the pop baritone Josh Groban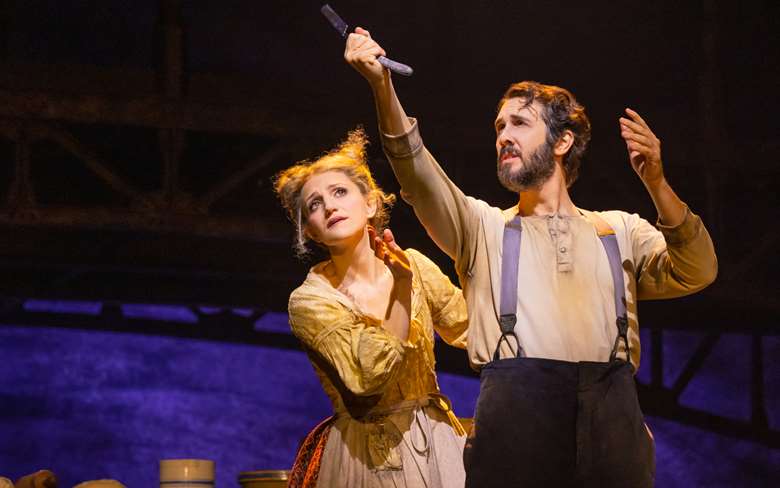 After so many scaled-down versions of the Stephen Sondheim-Hugh Wheeler musical Sweeney Todd in the past few decades, including John Doyle's 2005 Broadway revival that not only reduced the cast to 10 but had them replacing the orchestra as well, it's a treat to see the show on a grand (and Grand Guignol) scale once again. Director Thomas Kail's revival boasts a robust cast of 25 and an orchestra of 26 (under Alex Lacamoire's triumphant baton) in a lush physical production that matches the broad reach of the music.
Indeed, Mimi Lien's Erector-set-like scenic design, Emilio Sosa's costumes and Natasha Katz's expressive lighting suggest a grimy 19th-century London at the tail end of the Industrial Revolution as it might appear in a graphic novel whose look is dominated by blacks and whites and browns, with the occasional splashes of blood-red.
This is also arguably one of the best-sung productions of Sweeney Todd ever mounted, led by the pop baritone Josh Groban (Natasha, Pierre & the Great Comet of 1812) as the vengeance-seeking barber and Tony winner Annaleigh Ashford (Sunday in the Park with George) as his daffily pining pursuer and partner-in-crime, Mrs Lovett.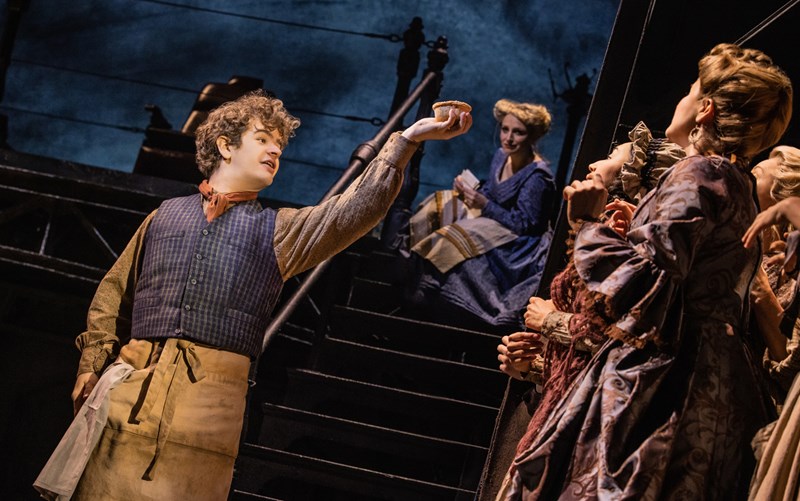 Gaten Matarazzo, Annaleigh Ashford, Alicia Kaori, DeLaney Westfall and Kristie Dale Sanders in the 2023 Broadway production (photo: Matthew Murphy and Evan Zimmerman)
Groban is a stronger singer than actor, to be sure, one who overenunciates his lyrics and projects little sense of menace or mania as he slits throats in an almost workmanlike way. At key moments, Lien's set also keeps him upstage and high above audiences in the stalls, on a bridge-like platform where his elaborately designed barber's chair can be manipulated to send his victims sliding down to the pie-shop kitchen on the stage below. (Kail and his design team celebrate the pulp flourishes to the storytelling, to delicious effect.)
Ashford, at 37 considerably younger than most actresses who've played Mrs. Lovett, leans into broad humour in ways that can be a bit too over-the-stovetop. No sooner does she complain that her 'poor knees is not what they was,' for instance, than we see her doing an athletic bit of physical comedy on the staircase up to the barbershop. And her off-kilter line readings and meandering accent seem to channel either Carol Burnett or Kristin Wiig trying to get a Saturday Night Live castmate to break character. Still, she is genuinely hilarious and she sings like a dream – and she smartly tones down the wackiness in the increasingly more tragic Second Act.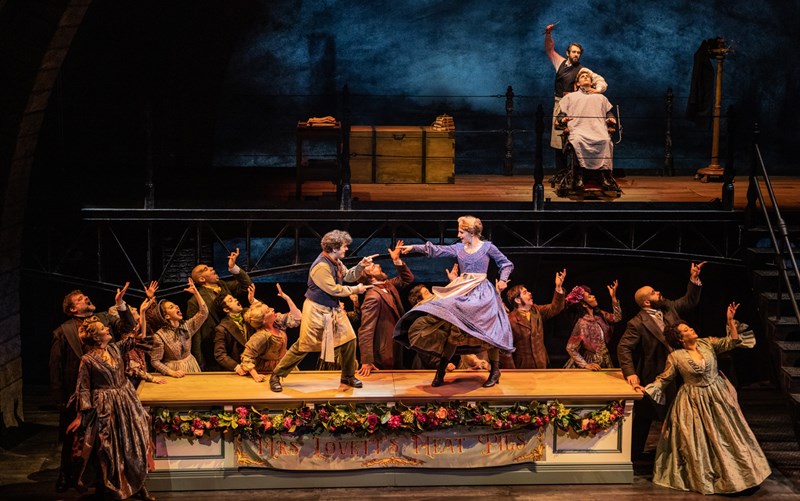 Gaten Matarazzo, Annaleigh Ashford, Josh Groban, Nathan Salstone and the company of the 2023 Broadway production (photo by Matthew Murphy and Evan Zimmerman)
In some ways, she's well-matched with a Sweeney Todd who is arguably also too young for the role. In Ashford and Groban we see an odd coupling that makes a kind of Bizarro World sense: the cockeyed striver and the sociopath, who see in each other a means to achieve goals they could not fulfil on their own. Here, they both benefit from Wheeler's well-crafted book, the strongest of all Sondheim's musicals, which helped propel the original 1979 production to become one of the late composer's rare commercial hits (albeit a modest one at the time).
Other featured players provide standout moments. Stranger Things alum Gaten Matarazzo delivers a powerfully affecting version of 'Not While I'm Around', as the dim-witted Toby, while Jordan Fisher projects crystalline vocals as the sailor romancing Todd's captive daughter, Johanna (newcomer Maria Bilbao, bringing a lovely vibrato to an underwritten ingenue role). And Ruthie Ann Miles turns the Beggar Woman, often little more than a throwaway character, into a haunting presence at the core of the drama.
Kail's main achievement is to restore the epic scale of this dark and twisted story, with a chorus that hovers at the periphery and occasionally takes centre stage to writhe and lean and shuffle-step back into the background (credit to Steven Hoggett's typically unfussy choreography). The townspeople here emerge as another character, not only calling us to 'attend the tale' but implicating us in the tragedy that unfolds onstage.
---
Production credits
Stephen Sondheim music, lyrics
Hugh Wheeler book
Lunt-Fontanne Theatre, New York 26 February 2023 – ongoing
Reviewed on 24 March 2023
Cast Josh Groban, Annaleigh Ashford, Jordan Fisher, Gaten Matarazzo, Maria Bilbao, Ruthie Ann Miles, Jamie
Jackson, John Rapson, Nicholas Christopher et al
Direction Thomas Kail
Music supervision Alex Lacamoire
Orchestrations Jonathan Tunick
Choreography Steven Hoggett
Set Mimi Lien
Lighting Natasha Katz
Sound Nevin Steinberg
Costumes Emilio Sosa
Wigs, hair, make-up J Jared Janas