Newsies | Live Show Review
Marianka Swain
Tuesday, May 30, 2023
Newsies is escapism writ large – and it's big, bold entertainment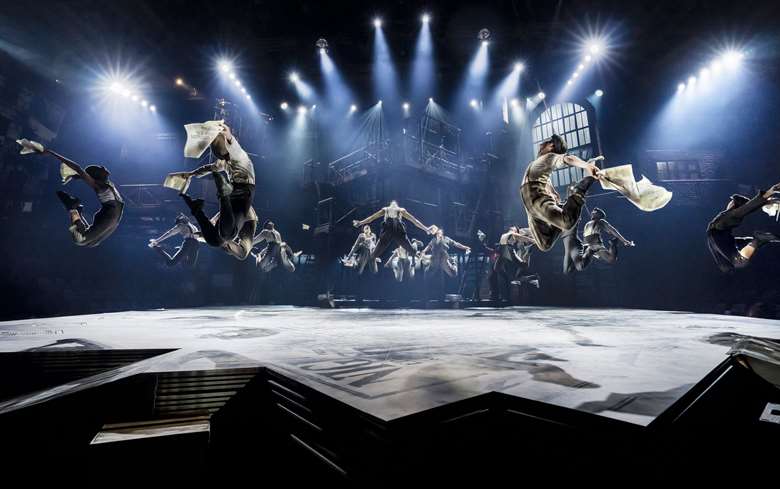 Fond as I am of Britain's historic theatres, it is exciting to see how a new – and much more flexible – space can fire up our performers and creatives. That's certainly the case with the Troubadour: formerly a TV studio, now a cavernous venue that invites big-scale innovation. Enter Newsies, the Disney film flop reborn as a Broadway hit and, a decade on, finally making its explosive UK debut.
The show is a fictionalised – and Disneyfied – version of the real-life New York newsboys' strike of 1899, in which the courageous 'newsies' stood up to greedy publishers Joseph Pulitzer and William Randolph Hearst when they unfairly increased prices. That irresistible David and Goliath story became a Christian Bale-starring movie-musical in 1992 with a score by Alan Menken and Jack Feldman.
Glorious aerial work culminates in dancers actually swinging from the chandeliers

Unfortunately, the film hit the headlines for all the wrong reasons, but Newsies is far more convincing as a stage work – especially in Matt Cole's dynamic, immersive thrust staging, which has performers dashing up the aisles and flying overhead. The seats are designated different New York boroughs, making the audience part of the newsies' war – one which will only be won through solidarity.
When I first saw the show I was sitting in 'Brooklyn', or the front stalls. On my return, I was given a whole new perspective while sat in 'Woodside', or to the left of (and very close to) the stage. When heroic strike leader Jack Kelly (Michael Ahomka-Lindsay) fled from the authorities, his escape took him up a ladder and – thrillingly – sprinting along the passage right in front of me. I also got a very different view of Cole's phenomenal ensemble numbers, which are definitely the front-page news here, mixing tough street-kid physicality with impeccably delivered classical work, jaw-dropping acrobatics, cheekily anachronistic breakdance, tap dancing on the tables, and glorious aerial work that culminates in actual swinging from the chandeliers.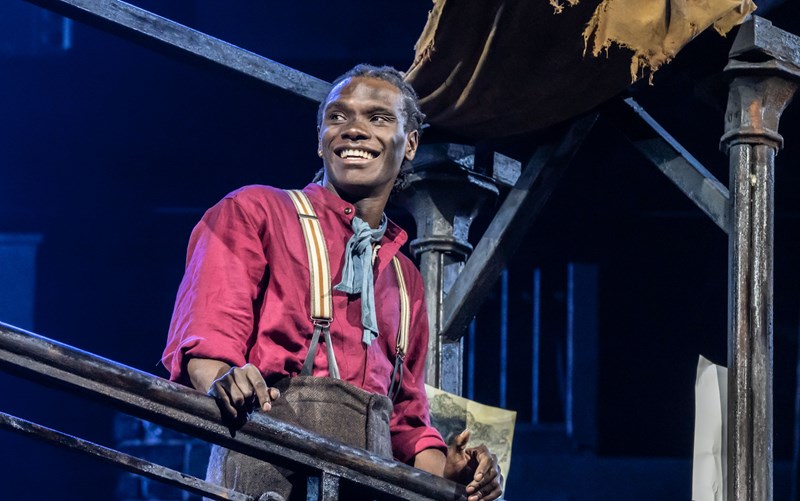 Michael Ahomka-Lindsay as the newsies' leader Jack Kelly (photography: Johan Persson)


From the front, I was most struck by how Cole conveys, through dance, Newsies' major theme of strength in numbers. But, sitting near the stage, I could pick out wonderful details in each individual's performance, too, and also in the background action – like the newsies (still just kids, many orphaned) playing jump rope, teasing one another, or collapsing into exhaustion at the end of their working day.
The downside of the huge Troubadour space is that such minutiae get swallowed up when you move further back. Spectacle thrives here; intimate scenes do not. The same applies musically: Menken's catchy anthems about seizing the day and changing the world are stirring, albeit in a generalised way, but the lyrics get lost. It doesn't help that the sound seems overamplified at times. The exception is breakout number 'Santa Fe'. Ahomka-Lindsay – who, throughout, gifts Jack with a winning combination of natural charisma, battered pride and burdened responsibility – lets loose in this soaring ballad, his yearning palpable even from afar. Ryan Kopel plays well off him as the more buttoned-up Davey, while Cameron Blakely's Pulitzer is an effective villain.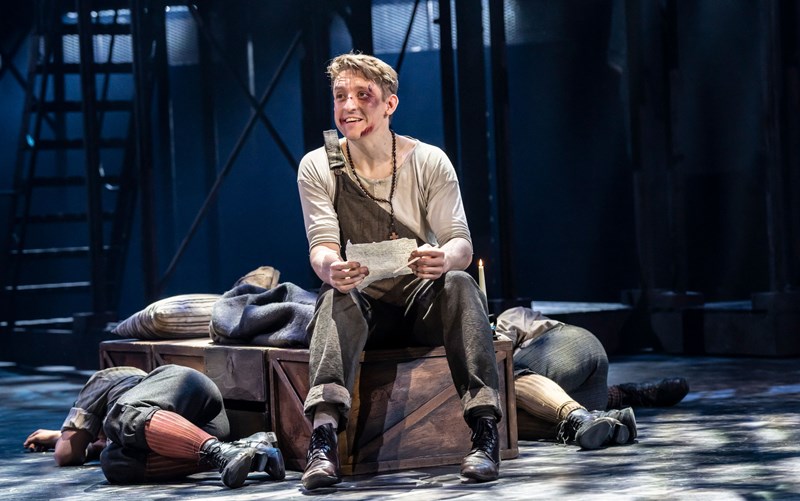 Matthew Duckett as Crutchie (photography: Johan Persson)


Shows like Newsies wouldn't survive without ample support from covers and swings. On my second outing, I saw Bobbie Chambers as aspiring journalist Katherine (instead of Bronté Barbé). The central romance felt comparatively undercooked, Chambers sounding more like Jack's scolding teacher than his lover, but they strongly conveyed their mutual understanding of how storytelling (Jack's artwork is a crucial plot point) can change people's minds. I was also impressed by Kamilla Fernandes as brassy singer Medda, and I love that Cole's production involves the female ensemble in the strike.
Morgan Large's towering design is a kind of giant playground: New York's recognisable fire escapes mixed with slides and zip wires. Mark Henderson's stark lighting lends the drama a romanticised, mythic quality. That slightly undercuts the very real contemporary resonance with our current widespread strike action. But ultimately this is escapism writ large – and it's big, bold entertainment.
---
Production credits
Alan Menken music Jack Feldman lyrics Harvey Fierstein book
Troubadour Wembley Park Theatre 
Reviewed on 26 January 2023
Cast Michael Ahomka-Lindsay, Bronté Barbé, Ryan Kopel, Cameron Blakely, Moya Angela, Matthew Duckett, Ross Dawes, Bobbie Chambers, Kamilla Fernandes et al
Direction, choreography Matt Cole – Musical direction Nigel Lilley – Set Morgan Large – Lighting Mark Henderson – Sound Tony Gayle – Costumes Natalie Pryce
---
Do you love Musical Theatre? Then make sure you never miss an issue of Musicals magazine – subscribe today