Shucked | Live Show Review
Thom Geier
Tuesday, June 13, 2023
Catchy modern country-twinged songs seem a couple of hay bales above pastiche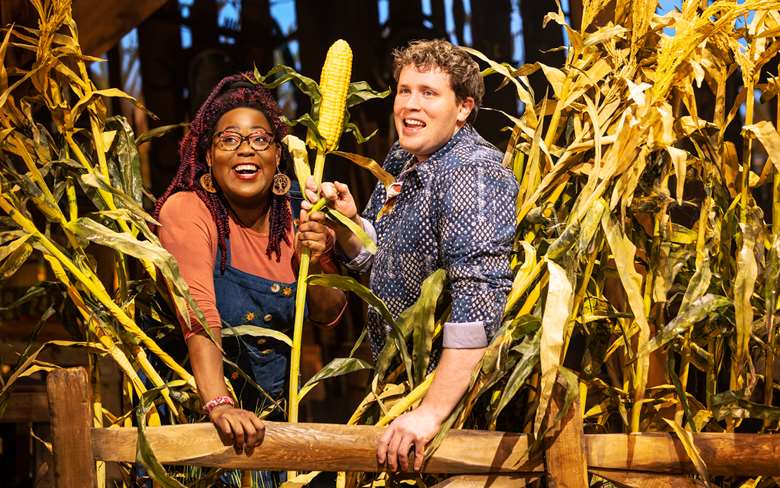 Back in 1969, CBS was looking for its own version of the zeitgeisty NBC hit Laugh-In. The network launched Hee Haw, a variety show mixing country songs and cornpone humour set in fictional Kornfield Kounty. The series ran for two decades, mostly in syndication, and it gets a Broadwayfied update in Shucked, a hilarious new musical comedy that draws not only on Hee Haw but also Urinetown – and a bit of Brigadoon and The Music Man as well.
Shucked emerges as that rare musical comedy which succeeds on both fronts, offering a harvest of tuneful treats and a bumper crop of genuine laughs
As with Urinetown, Robert Horn's book is a fable about scarcity with a meta quality and two narrators who both comment on the action and join in the story in a variety of roles. Played with scene-stealing glee by Grey Henson and Ashley D Kelley, they narrate a yarn about the mythical Cobb County, an isolated Brigadoon-like community thrown into tumult when the cornstalks that drive the local economy suddenly start dying.
Our plucky heroine, Maizy (Caroline Innerbichler), decides to leave her hometown – and fiancé, Beau (Andrew Durand) – to find a corn doctor who can save the local crop. She ends up in the big city of Tampa, and naively recruits a shady podiatrist (corn doctor, get it?) who's run afoul of local mobsters and thinks he might as well bilk some hayseeds while he's on the lam. John Behlmann oozes unctuousness in the role, before catching a conscience in Act Two in traditional musical comedy fashion.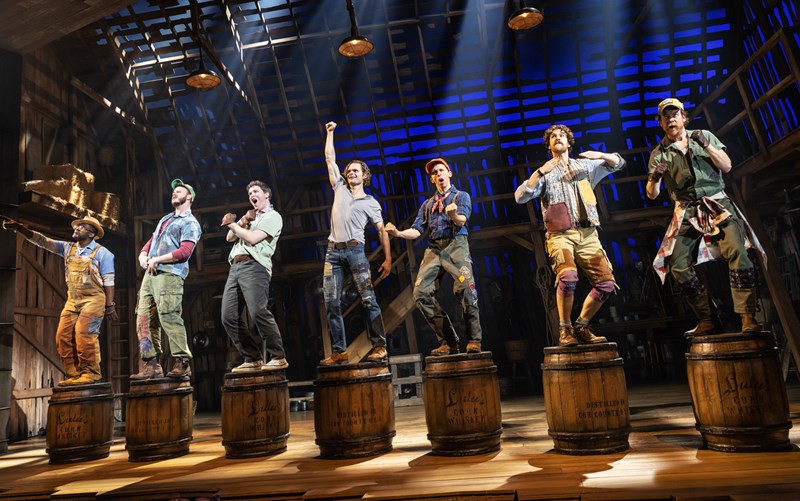 Horn, whose 2019 adaptation of the movie classic Tootsie earned him a Tony Award, here unleashes a laugh-a-minute original script that more than distracts from the ludicrousness of the plot. He doesn't just rely on puns, although there are plenty of those ('Like the personal trainer said to the lazy client, "This is not working out".'). There's also a mix of bawdy double entendres, sophomoric Airplane!-style goofs and character-driven quips studded throughout. Henson's narrator and Beau's dimwitted brother Peanut (Kevin Cahoon) consistently stop the show with hilarious asides in the manner of the stand-up genius Stephen Wright. 'When a movie says "based on a true story", it happened, but with uglier people,' Peanut comments at one point, adding, 'I think if you have time to jump in front of a bullet for someone, they have time to move.'
The score, penned by Nashville veterans Brandy Clark and Shane McAnally, is a catchy collection of modern country-twinged songs that seem a couple of hay bales elevated above pastiche, from the ensemble number 'We Love Jesus (But We Drink a Little)' to a series of pretty ballads that Innerbichler and Durand deliver with strong, clear voices and just a hint of twang. The score's emphasis on torch songs offers fewer opportunities for choreographer Sarah O'Gleby, though Durand and Cahoon lead the male ensemble through a Act Two barn-burner called 'The Best Man Wins' that deploys barrels in a variety of creative and athletic ways.
The vocal standout is Alex Newell (a highlight in the recent Once On This Island revival), who plays Maizy's whiskey distillery-owning cousin, Lulu. Newell gives a full-throated power belt to their Act One solo, a defiant declaration of independent womanhood, that nearly topples Scott Pask's dilapidated-barn set and the roof of the Nederlander Theatre as well. (Tilly Grimes's denim-forward costumes and Japhy Weideman's lighting contribute greatly to the overall atmosphere.)
Director Jack O'Brien deserves full credit for cooking this chowder into a fast-moving meal, and managing the sudden shifts in tone with enviable ease. Most importantly, he never lets us condescend to unworldly characters who sometimes seem to be a few kernels shy of a cob in the brains department. That's a remarkable achievement since Maizy and the gang are never fleshed out much beyond their original archetypes. O'Brien's cast play the material straight, wide-eyed naivety intact, leaving the fourth-wall-breaking winks and eye-rolls to the onstage narrators (Henson really shines in this regard).
As a result, Shucked emerges as that rare musical comedy which succeeds on both fronts, offering a harvest of tuneful treats and a bumper crop of genuine laughs.
---
Production credits
Brandy Clark, Shane McAnally music, lyrics
Robert Horn book
Nederlander Theatre, New York 8 March 2023 – ongoing
Reviewed on 31 March 2023
Cast Caroline Innerbichler, Alex Newell, Andrew Durand, John Behlmann, Grey Henson, Ashley D Kelley, Kevin Cahoon et al
Direction Jack O'Brien
Music direction/orchestrations Jason Howland
Choreography Sarah O'Gleby
Set Scott Pask
Lighting Japhy Weideman
Sound John Shivers
Costumes Tilly Grimes
Wigs Mia Neal