Guys & Dolls | Live Show Review
Marianka Swain
Tuesday, April 25, 2023
Hytner plunges us into that heightened version of New York, with colourful pretzel stands and barbershops popping up mid-song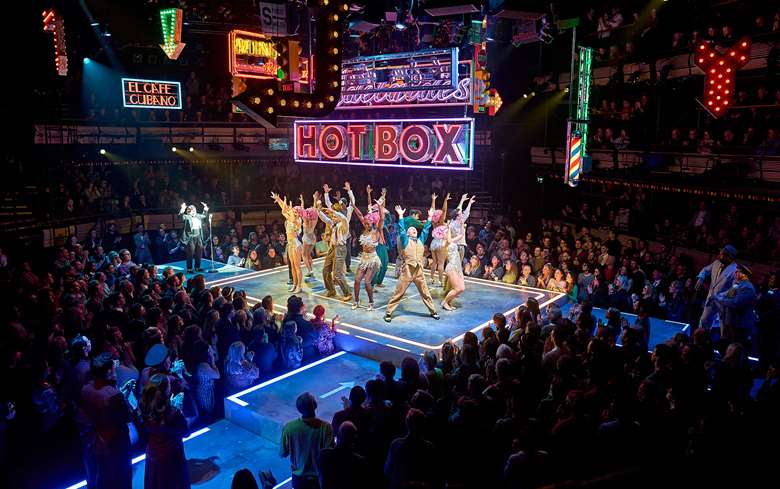 Astonishingly, this is the Bridge Theatre's first ever musical, but on the strength of such a vivid, vibrant triumph of a revival, I should hope not its last. Similar to Nicholas Hytner's immersive Shakespeare stagings at this marvellously flexible venue, his Guys & Dolls accommodates around 400 'standing tickets', with 600 more seated in the round. That puts part of the audience within touching distance of the performers – to the evident joy of all, including plenty of younger theatre-goers.
Platforms come whooshing out of the floor all over the place in Bunny Christie's gambolling set, forming everything from a central stage to a huge zigzagging path, while neon signs descend to clue us into each location. The slick timing of those transitions is impressive, with ushers nudging the audience around where necessary – though the set-up sometimes distracts from the end of the previous scene. But that's balanced out by added enjoyments like pre-show activities and audience involvement; one delighted spectator had her wine nicked by Benny Southstreet (a brilliant Mark Oxtoby).
Marisha Wallace's Lament is one for the ages: she aims it at the audience beside her

Arlene Phillips and James Cousins's movement is excitingly dynamic, one of many elements that give this wonderful, but oft-staged, show a new lease of life. It's organic and driven by both characterisation and the propulsive rhythms of the city. I did long for the odd moment of sheer spectacle – the entrance to Havana is rather muted by having the dancers mingling with the audience – but far more is gained than lost.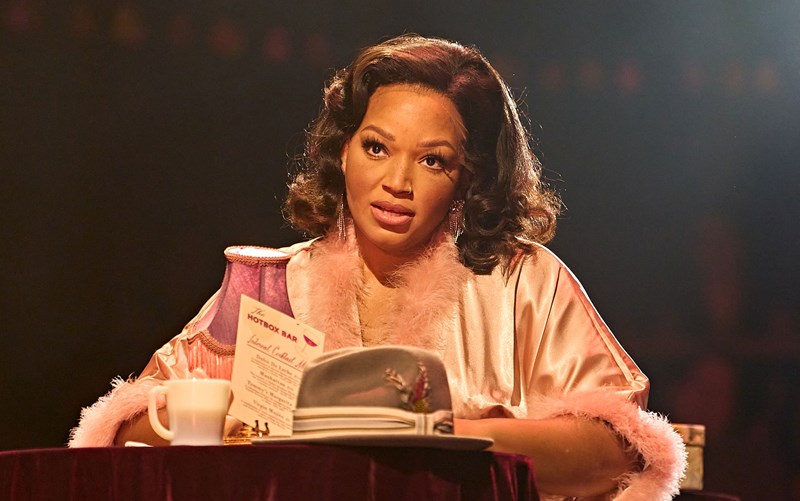 Miss Adelaide (Marisha Wallace), photography: Manuel Harlan


Crucially, this Guys & Dolls doesn't just deliver Frank Loesser's glorious score (buoyed by CharlieRosen's jubilant new orchestrations), but also picks up every nuance and zinger in Jo Swerling and Abe Burrows's Damon Runyon-adapted book – surely the funniest in all of Musical Theatre. Hytner plunges us into that heightened version of New York, with colourful pretzel stands and barbershops popping up mid-song: just realistic enough for the emotional beats to land, but always playful and stylised.
That extends to the perfectly pitched performances, with Daniel Mays a revelation in his professional Musical Theatre debut. His Nathan Detroit has the jittery energy of an addict and the flamboyance of a showman: when he strolls the streets, resplendent in a mustard waistcoat, glad-handing and assuring everyone that he'll deliver on his floating crap game, it's evident how much he needs that status.
It makes his dynamic with Adelaide much more interesting: he's not purely a commitment-phobe, but is loath to surrender his identity. Similarly, Marisha Wallace's Adelaide is never a ditz or a sucker – she's simply a staunch believer in love. Yet she absolutely owns her sexuality (particularly in a Hot Box number where, dressed in fringed black leather, she might be the BDSM version of Ado Annie). The anger in their duet stems from love and the heat of desire; both truly act through song. Wallace also beautifully modulates her mighty vocals. Her 'Lament' really is one for the ages: she drops the exaggerated New Yoik pronunciation and instead aims it right at the audience members beside her, making it an intimate confession.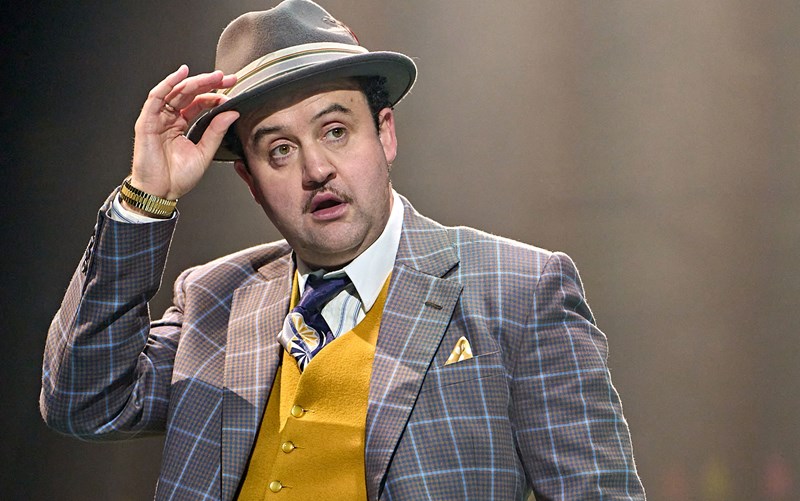 Nathan Detroit (Daniel Mays), photography: Manuel Harlan

Also superb are Celinde Schoenmaker and Andrew Richardson as, respectively, a furiously repressed Sarah and an almost fatally detached Sky. But when they connect in song, harmonies melting into each other, they're both goners. (To quote Sky: 'Yeah. Chemistry.') Richardson could use a tad more vocal projection, but Schoenmaker's shimmering operatic tone is simply exquisite. She's funny, too, ripping Sky's shirt open during an utterly soused 'If I Were a Bell'. Again, this production doesn't victimise her. In fact, one of the highlights is Adelaide and Sarah's climactic meet-up – downing shots in a bar and scheming to get their own way.
There are clever modernising touches like this throughout, some more overt – like a nod to the 'Single Ladies' dance, or (less successfully) the jarring addition of a stereotyped gay bar. But often the freedom pays off: Cedric Neal hurls diva riffs into 'Sit Down, You're Rockin' the Boat' – and why not? Any musical that ends with a mass dance party is surely doing something right.
---
Production credits
Frank Loesser music, lyrics Jo Swerling, Abe Burrows book
Bridge Theatre Reviewed on 11 March 2023
Cast Daniel Mays, Marisha Wallace, Celinde Schoenmaker, Andrew Richardson, Cedric Neal, Mark Oxtoby, Anthony O'Donnell et al
Direction Nicholas Hytner – Musical supervisor/arranger Tom Brady – Choreography Arlene Phillips, James Cousins – Set Bunny Christie – Lighting Paule Constable – Sound Paul Arditti – Costumes Bunny Christie, Deborah Andrews
---
Do you love Musical Theatre? Then make sure you never miss an issue of Musicals magazine – subscribe today