Backstage with… Patrick Vaill: 'Why on earth had they cast this slight, fair-haired boy as Jud Fry?'
Matt Wolf
Tuesday, May 2, 2023
Patrick Vaill, the Broadway actor currently wowing West End audiences with his alternative portrayal of Jud Fry in Oklahoma!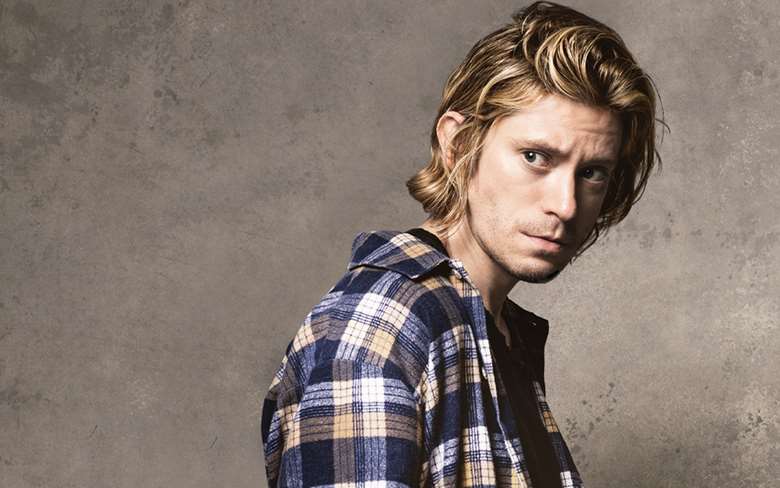 How long have you been with this Oklahoma! production?
Sixteen years! This started while I was at Bard College [in New York], as a student production one spring. At the time, it felt like this fantastically chaotic, rough show packed with ideas, and it's now this gorgeous, streamlined thing that is as tight as a drum.
Did you ever foresee such longevity with this show?
[Laughs] Of course not, I'm not crazy.
What was your initial response to getting the part of Jud?
I remember first feeling confused and working on the role as if I was going to have some sort of Raging Bull-esque experience! I mean, why on earth had they cast this slight, fair-haired boy as Jud Fry? What happened was that I really fell in love with the book of the show: everybody knows the songs are great, but not everybody knows that around those songs is one of the strongest books in the canon.
How would you describe your relationship to the show at this point?
Despite the fact that, as an actor, you make a decision to be a wanderer, we nonetheless do have a craving to have some stability even if we've chosen a life without one. In a weird way, it means that Oklahoma! and Jud Fry have given me stability and a spine across 16 years; it's not lost on me that I'm incredibly lucky – and it's incredibly rare – to have such a long relationship with something.
This is a production that has this strange, robust power: it starts moving, and you just have to go with it
How do you feel about moving such an immersive production into the West End?
This is the most intimate staging that has ever been done of this piece. The stage at Wyndham's Theatre is the smallest we've done it on, and all I would say to people who saw the show at the Young Vic and think they've seen it and don't have to again is: 'You are incorrect; it's different and very scary and very sexy and very funny – it's really thrilling.'
What is it about the show that keeps your experience of doing it fresh?
It just doesn't get old. So much of how we have been conditioned to work on the show is that we are 12 people walking onto that stage every single night, and the only thing we can be certain of is that someone is going to die at the end of the night. This is a production that has this strange, robust power: it starts moving, and you just have to go with it. I feel as if it maintains this power to hold my entire attention and my entire body, and I think I'm not alone in that.
How have you adjusted to life in London, as one of only two Americans [James Patrick Davis, as Will Parker, is the other] to transfer from New York with the show?
That's been a really special aspect of all this. I sort of came to London and felt as if I'd returned here from somewhere: this cast is a really special group. At the Young Vic, they had this wonderful backstage set-up where they had this room with three shower stalls, so after the show Anoushka [Lucas, playing Laurey] and Arthur [Darvill, playing Curly] and I found ourselves privately showering in the same room. The three of us all have blood on us at the end of the show, so needed to shower that off and also do our vocal cool-down.

So you've developed a special bond with your co-stars?
Yeah, it meant that we were all leaving the theatre at the same time and reconnecting together to real life. I could go home and have a cup of tea and beans on toast and watch TV, but I couldn't do that as easily if I hadn't come down off the show with those two.
Any specific health tips to getting through eight shows a week?
Ethel Merman said that someone once told her that if you want to do a musical comedy, you have to live like a fucking nun, and I come to you tragically and crestfallen to say that there is truth in that. Shouting in a bar is a fun thing to do but not if you have to sing the next day.
Does this feel like your last hurrah, or is there a further Jud in you yet?
You mean the Old Yeller version? Obviously I would never say never, but taking this to the West End feels like the ultimate: if this ends up being the last time I ever do it, I can put my boots away and say, 'Well done', and be really, really astonished at the trajectory of this thing.
Oklahoma! is booking until 2 September; buy tickets: Oklahoma!