How to reimagine a classic: Rodgers and Hammerstein's Oklahoma! is reborn
Edward Seckerson
Thursday, May 4, 2023
Edward Seckerson on the importance of imaginative revivals, particularly in the case of Golden Age musicals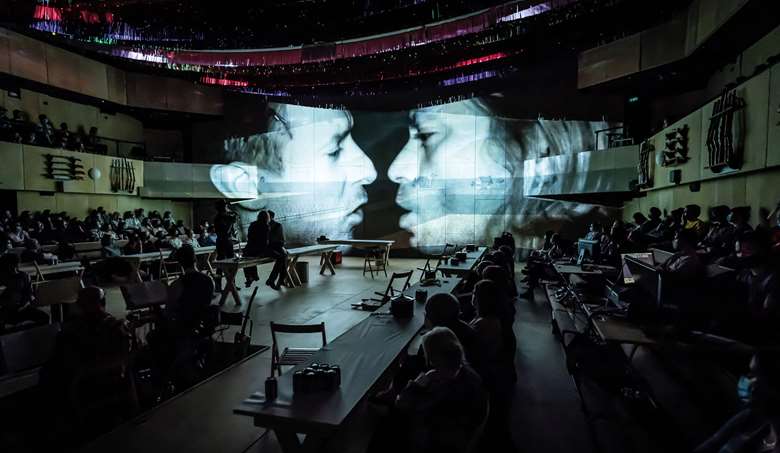 While new writing in Musical Theatre continues to flourish, surprise, excite and even – in the case of scores like Jeanine Tesori's Fun Home or Pasek and Paul's Dear Evan Hansen – thrill, we need to be thinking of posterity, of longevity, of shows being reimagined in ever-intriguing ways. One of the best things I saw last year was Rupert Goold's terrific revival of Duncan Sheik and Steven Sater's Spring Awakening at the Almeida, where I'd happily have coughed up the price of a ticket for the blistering staging of 'Totally Fucked' alone. But Spring Awakening is a modern classic; it's the so-called 'Golden Age' musicals – with their attendant problems of often-creaky books and outmoded social attitudes – that pose much more of a challenge and are ultimately kept alive through their cast albums and the occasional 'concert' presentation.
Actually, the first time I saw a modern classic totally transformed was the West End premiere of Sondheim's Into the Woods, where the tradition of a straight Broadway transfer was scuppered in favour of a new production from the then highly provocative Richard Jones. Having seen the rather dreary Broadway original directed by the bookwriter James Lapine in the style of a traditional (albeit subversive) pantomime, I was thrown a most inviting curve ball by the hunting-lodge set with its row of darkly anonymous doors. Which door would you choose, which path would you take? The essence of the show was right there before your eyes without a word being uttered or a note sounded.
The Oklahoma! revival is a shining example of how you can not just honour but intensify the drama
There are some Musical Theatre enthusiasts who blanch at the prospect of 'reimagining' classic shows and who heartily resist 'conceptual' stagings (for want of a better word). But even watertight masterpieces must be open to addressing the changing times, and so often it's a matter of perception – as opposed to questionable rewriting – which can bring that about. A man of the theatre like Sondheim was all about his pieces enjoying theatrical reinvention and renewal, and when he agreed to allow Bobby to become Bobbie in Marianne Elliott's stunning gender-swapping revival of Company he was, as in everything he did, way ahead of the curve.
And here's another thing: sometimes we underestimate the staying power of classic shows because the original view of them was tailored to the times in which they first appeared. I am thinking particularly of the Rodgers and Hammerstein canon where the quality of Hammerstein's books, in the case of Carousel, Oklahoma!, The King and I, and South Pacific (a Pulitzer Prize winner co-written with Joshua Logan), invites constant re-evaluation. For last year's Carousel at the Regent's Park Open Air Theatre, director Tim Sheader focused everything on the grim austerity of the piece and music director Tom Deering made a virtue out of necessity by rescoring the piece for a grittily urban wind band.
But if ever a case were to be made for a bold reimagining, then the transatlantic transfer of Daniel Fish and Jordan Fein's Oklahoma! (Tony Award for Best Revival of a Musical) must take the palm. It is quite simply one of the best things I've ever seen in the genre and a shining example of how, without changing a word of text or its intentions, you can transform the picturesque into a stark reality and not just honour but intensify the drama.
London's Young Vic became a brightly lit, stripped pine barn where the open prairie is quite literally drawn on the rear wall, and we are privy to a close-knit community as suspicious of outsiders as of change. The role of Jud Fry (played here by Broadway's Patrick Vaill) is key to the success of Hammerstein's book in that regard, but how often do we see him portrayed as a mean two-dimensional villain as opposed to a misunderstood loner and a viable contender for Laurey's affections? The movie version even deprived Rod Steiger of his revealing soliloquy 'Lonely Room'.
The contrast between super-brightness and abject darkness is a disarming feature of Fish and Fein's staging, and the use of video cameras and disembodied voices lends it a surreal quality. The auction and trial scenes, normally played for laughs, are suddenly uncomfortable (as Hammerstein surely intended), and the breathtaking denouement where a defeated Jud effectively 'offers' himself to Curly is as shocking as it is heartbreaking.
As the great Sondheim always reminded us: the play's the thing.
---
Oklahoma! is at Wyndham's Theatre from 28 February 2023. Buy Tickets here: musicalsmagazine.com/buy-tickets/oklahoma
Never miss an issue of Musicals magazine – subscribe today