Marisha Wallace interview: 'It's never just theatre or music. Everything is connected'
Edward Seckerson
Tuesday, April 25, 2023
Marisha Wallace has made the transition from North Carolina gospel singer to Broadway and West End star look easy – but behind her powerful voice and winning stage presence is a heartwarming story of graft, resilience and risk-taking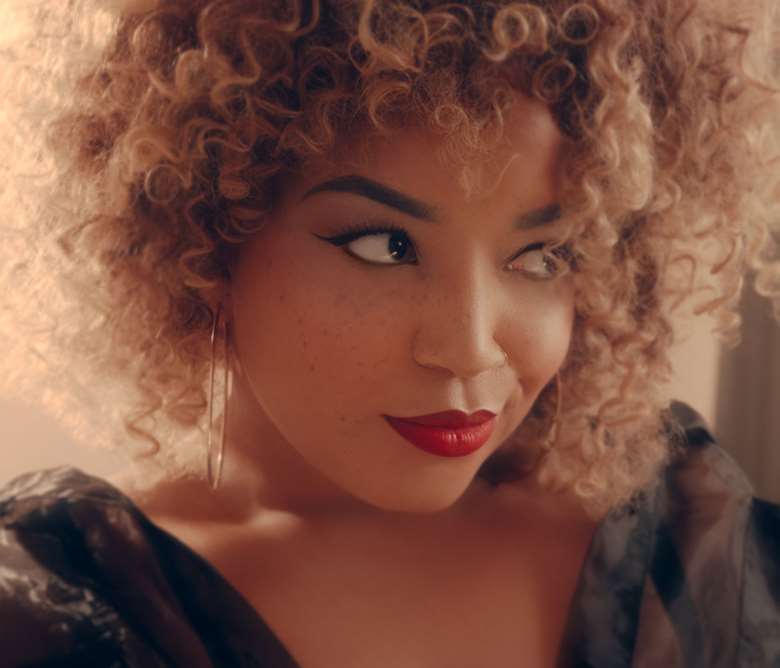 When Marisha Wallace first stunned London audiences with Effie's defiant entreaty 'And I Am Telling You I'm Not Going' at the close of Act One of Dreamgirls, she cannot have imagined how prophetic those words would turn out to be. Producer Sonia Friedman had initially jetted her in from the States as an alternate and then a substitute for an ailing Amber Riley. Three weeks became three months became six months became two years. Then came the London premiere of Waitress and suddenly Wallace's image was on the side of London buses – and if that wasn't an invitation to become an honorary Brit then nothing was.
I first met Wallace when she joined me for an episode of my cabaret-cum-conversation series Comparing Notes (then at Pizza Express Live, now at Crazy Coqs) and I was instantly hooked by her charm, her smarts and her phenomenal presence. When Wallace sings, she is storyteller and one-woman band rolled into one. Her spectacular vocals mean something – there's an expressive purpose to every riff, every lick, every run. I remember she kicked off our gig with the Etta James classic 'Something's Got A Hold On Me' and signed off with Effie. That 'And I Am Telling You' was so hot that the venue's air conditioning has never been the same since. Put simply, she inhabited the song that sets Effie off on her journey towards independence and, more importantly, individuality.
I loved that while Dinah Washington was making smooth, beautiful sounds, Etta James was like, 'I'm gonna try and sound as black as I can!'
Marisha Wallace

Wallace adores the number – and she owns it. 'I've sung it in so many different settings and it has the same impact every time, and that's the essence of a great song. I've done it in a jazz space, I've done it for people who really don't appreciate Musical Theatre, I've even done it as an opener for Simply Red! And every time I've sung it, it's taken me to another level. I auditioned for American Idol after singing it at a talent show.'

She sums up: 'This song has followed me my whole life. The thing is, it has so much emotion, so much passion, that it allows you to show everything your voice can do. How often can you show everything in one song? Do it right and it always sends the crowd wild.'

But that's assuming, of course, that you can do it right, and do it eight times a week. Wallace's soulful belt can melt your face but it doesn't fry her vocal cords. And that's because she knows her voice and how to keep it healthy. She speaks of that raspy powerhouse sound – her sound – being all 'smoke and mirrors', the critical fusion between head and chest registers so cleverly mixed that what might sound like a pure belt is actually anything but. You don't hear the join 'behind the mask'.

It may come as no surprise at this point to learn that Wallace started out with the intention of teaching music. She'd grown up doing what comes naturally in a small farming town in North Carolina, which was about as far removed from the glitz and glamour of Broadway and the West End as it was possible to be. Of course, she sang gospel, the root of all soul, but in order to win a place in the music programme that would set her on the path to her teaching qualification, she had to learn and deliver an Italian opera aria. As she puts it herself: 'I'd never sung in Italian before – I could barely sing in English!'

Then came the bombshell. The auditioning committee for the university could hear a problem with her voice and one of the professors suggested she consulted an ENT specialist. A vocal cyst was discovered and surgery was the only option. The spectre of the Julie Andrews saga loomed large. There was a chance she'd never sing again. So three months before going to university she was walking around town with a white board (no mobile-phone texting back then) hanging around her neck. No speaking. Silence was golden. She had to quit her waitressing job. Happily, the next time she'd be waiting tables it would be in London's West End, to music by Sara Bareilles.
When you take away all the cheesiness, the lace and frills, Oklahoma! is this time capsule, an amazing piece under all this dust
Marisha Wallace

The operation did the trick, albeit with a lot of intense rehabilitation. Musical Theatre seemed like a good option at this point so Wallace double-majored in it – receiving a lot of help from a teacher well-versed in opera but more importantly in the 'science' of belting; indeed, she was writing a PhD thesis on it. This was around the time of the game-changing rock musical Rent on Broadway, says Wallace, and young voices were disintegrating at an alarming rate as they screamed their way through an eight-shows-a week schedule. Her teacher told her that the key was in her 'legit' voice, her head voice. The trick was to deploy that without changing the quality of everything else that made her voice special.

'She told me that I needed to sing like Leontyne Price if I wanted to sound like Beyoncé. You have to know how to mix these two things together. You want the breath support of Price but you want the style of Beyoncé. Also, if you want to be able to move between a bunch of different styles, having opera as your foundation means you can go anywhere.

'But if you start with belting… There's a reason why opera singers don't have mics and can sing for hours. But then to sing like me, you have to bring the voice down. My teacher would make me do nasal sounds that just didn't sound like me – and when I cried about it she'd say, "Do you want to sing for two days or forever?"'

Forever sounded like a better deal. Wallace drew inspiration from the diversity of her vocal heroines: 'Etta James for sure, I loved that she had a raspy voice – even when I got the surgery done, my voice naturally had a rasp, so it was either get the rasp out or just lean into it. Etta didn't care about what other people thought of her voice. Around that time there was Dinah Washington making smooth, beautiful sounds, trying to sound as white as she could while Etta James was like, "I'm gonna try and sound as black as I can!"

'I loved Whitney, too. She taught me how to story-tell a song. Listen to her. She never starts out riffing too much, she sets up the song. "This is the chorus, this is the story of the verse." She adds layer on layer and builds and builds. She knew how to build the story and the song. That's what I learned from her. Aretha does that really well, too, and Dionne Warwick. I guess that's what has gotten me into Musical Theatre: the storytelling. I remember seeing Liza Minnelli and thinking that it wasn't the voice that was so amazing but the way she acted out her songs.'


I put it to her that it's exactly this – the acting – that has proved so winning in Wallace's stage performances. She has timing and comedic skills to spare but bags of heart, too. She's a natural actress. Becky in Waitress, Motormouth Maybelle in Hairspray, and – hold the phone – Ado Annie in Oklahoma!

Wallace had played this loveable character before in an all-black production in Portland 11 years ago – but nothing could have prepared her for Daniel Fish and Jordan Fein's Broadway reimagining of Oklahoma! when she landed the role (quite late in the day) for the Young Vic transfer. (It's since been announced that it will transfer to Wyndham's Theatre from February 2023.) This production was quite simply one of the best things I have ever seen in Musical Theatre – infinitely darker and edgier without changing a single word of text. As Wallace puts it: 'I was excited to bring authenticity to the piece. I grew up on a farm, I know what it's like to have no options, other than fuck, marry, kill. And your survival in the community is all about being liked and accepted. To do this piece at the time when gun violence and gun culture in America is all over the news gave it a real edge. At any point in the show the guy playing my dad could shoot someone dead. Just like that. That was the feeling Daniel wanted the show to have.
I love being a solo artist. A lot of actors don't like being themselves but I do. Sometimes I don't like hiding behind a character
Marisha Wallace

'And with Ado Annie it wasn't just about being funny in the role but also bringing some sexual power to it: "I Cain't Say No" because I don't want to! Daniel wanted me to dive into the power of it instead of apologising – to be love-positive, sex-positive. But this was in the story already. And that was crazy as it was written at a time when women weren't allowed to do anything. It was so ahead of its time. When you take away all the cheesiness, the lace and frills, it's this time capsule, an amazing piece under all this dust.'

Just so. Back in 1943, Broadway audiences embraced the homespun aspiration of it but were in denial about its darker underbelly. If only Oscar Hammerstein II could have seen what making Jud Fry a 'contender' as opposed to a black-hearted villain would do to the dynamic of the piece, he would have been amazed by his own vision.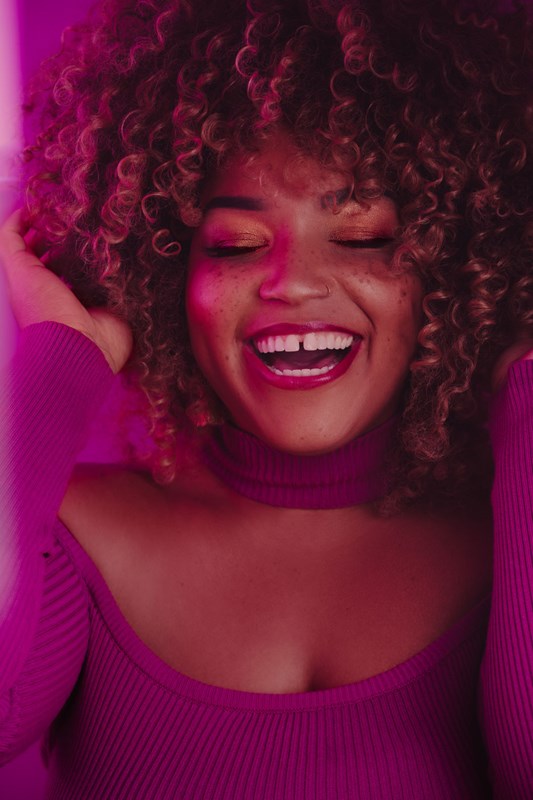 Marisha Wallace (photo: Kat Hennessey)
I also have great admiration for Wallace's hands-on approach to her career; her tireless energy, hard work and resourcefulness in the building of her own brand and profile. As she says herself, it's not called 'showbusiness' for nothing. What you see across her creative posting on TikTok and Instagram is truly what you get. And she's all about making things happen. In the beginning, new to London, she was very much her own driving force. When she arrived for our cabaret gig (a casual afternoon affair), I complimented her on her outfit. 'Oh, this is not what I'm wearing, honey – I have feathers!' And, boy, did she. She looked and delivered like a star. And the bottom line is, everyone wants Wallace back for a repeat performance.
I've been in a lot of hit shows, I can smell a hit – now I have to learn how to write one. I want to be more than just a talent for hire
Marisha Wallace

So how does she see the balance of her future career between solo artist (when we meet she's nearing the end of a UK tour) and Musical Theatre performer? 'I love being a solo artist. I feel that's where I get to be myself. A lot of actors don't like being themselves but I do. Sometimes I don't like hiding behind a character. I like to be in control of a space, the costume, the set list. When you're doing a show you are serving the dream of the people who wrote it – and that's great – but to do something completely your own, a dream that keeps you up at night, that's a whole different level of commitment. Honestly I think nowadays you have to be a multifaceted artist. It's never just theatre or music. Everything is connected.'

And there's something else, of course, something that chimes with the way of the world right now at a time of diversity in all senses of the word – and that, for Wallace, is to be the one who breaks the mould. She didn't see people who looked and sounded like her when she set off on her Musical Theatre journey. Other than the likes of Jennifer Holliday and Lillias White, she imagined that the only roles open to her would be the ones that, as she puts it, 'big black women can sing'.

Then she understudied the role of Bea, played by Heidi Blickenstaff, in Something Rotten! opposite Brian d'Arcy James on Broadway – and something clicked. She didn't have to be the random black girl who sings a solo, adds flavour, and then leaves. Women of all body and voice types could be leading classic Broadway and West End shows. The age of the curvy leading lady would be part of her mission.

To that end she wants to create a show of her own: 'I've been in a lot of hit shows, I can smell a hit – now I have to learn how to write one. I've been working with the amazing Grammy-winning songwriters Toby Gad and Mattias Larsson. I wrote with Toby over Zoom for a year during lockdown. Just that crash course in songwriting was incredible. There's a formula to everything. If you want to be the best singer, songwriter, dancer, there's a technique for it. I need to go learn what that formula is from the best people. I want to write my own shows, also in TV, not just on camera or on stage but also behind the scenes. I want to be more than just a talent for hire. If you can get a credit as a writer or a producer you can own your talent.'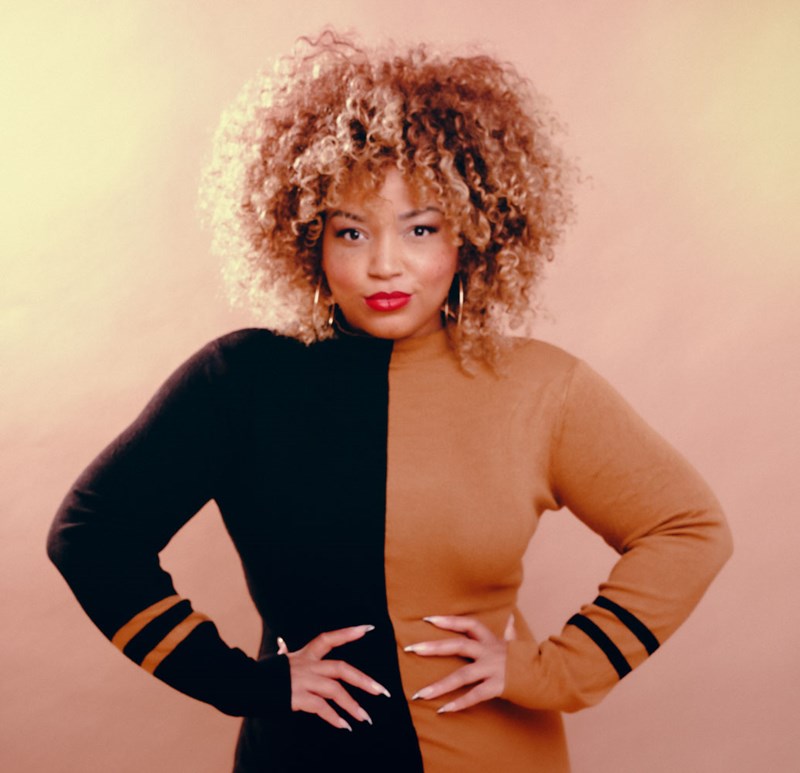 Marisha Wallace (photo: Kat Hennessey)
See what I mean about the Wallace enterprise and creative ambition? Her Decca album 'Tomorrow' took her and that iconic Charles Strouse song from her couch, where she first gave it her own unique spin, to a date singing for The Queen (she recently paid tribute to the late Elizabeth II by posting a video of that Royal Variety performance on Instagram). Now it's time to put her money where her mouth is and create an album entirely of her own making. At the last count, she had 22 Wallace-penned songs from which to choose. There'll be more. That makes her a singer/songwriter in my book.
In the meantime she'll be stepping into some really big shoes when she assumes one of Musical Theatre's best-loved and show-stealing roles in the new year. The word is already out through the rumour mill, of course, but until the official announcement we must sit tight and remain schtum. Suffice it to say Wallace will make it hers as surely as she does pretty much everything she touches – because beyond all technical considerations is her belief in the validity of her dreams and ideas. She is one of the very few artists I can think of whose conviction that she will get better and better over the next few years is entirely without conceit. She's learned from the best, she readily admits, but she's also learned never to compare herself to the best but rather to ask herself how they got to be so good. Never be jealous, she says, learn.
I am often asked what separates the good or even excellent from the great. I reach for words like fearlessness and risk and Wallace's own word 'belief'. She's part of the 'yes, we can' generation except that in Wallace's case it's the doing not the saying that sets her apart.
---
Find out about Marisha Wallace's upcoming shows and projects at marishawallace.com