The Drifters Girl (Original Cast Album) | Review
Marianka Swain
Monday, February 27, 2023
The indisputably wonderful part of this flawed enterprise is the music: The Drifters, in all their various incarnations, have a fantastic back catalogue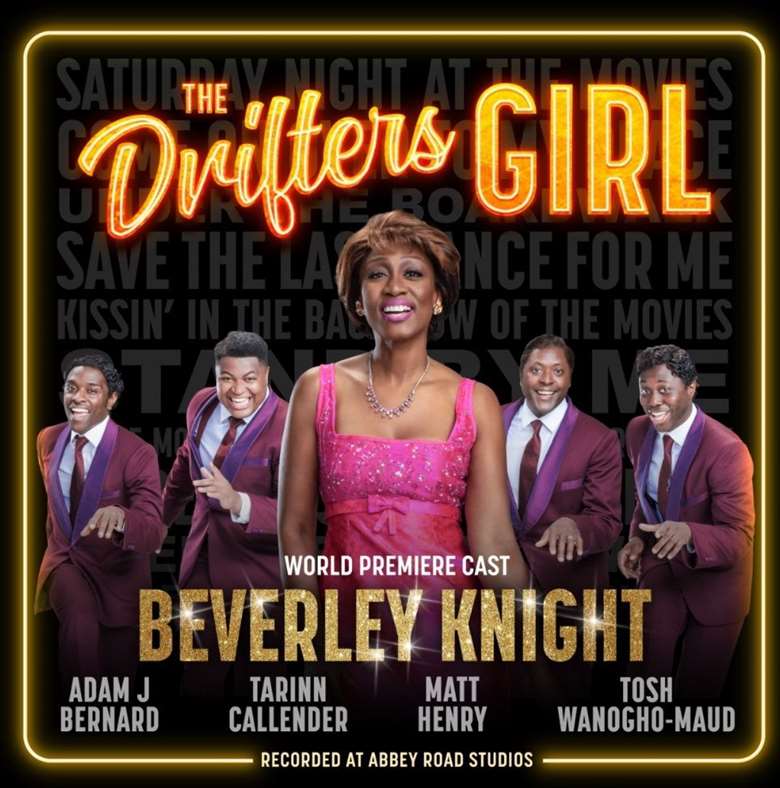 The Drifters Girl is a strange beast: a jukebox musical that focuses primarily not on the titular band, but on their manager. Granted, the African-American Faye Treadwell, who operated solo from the late 1960s onwards, was a pioneering force, and this empowered portrait supplied a great role for star Beverley Knight. Yet the overall messaging is peculiar, essentially arguing that the band name (which Treadwell went to court over) matters more than who's actually in the line-up; over the decades, The Drifters had more than 60 members pass through their ranks.
Perhaps that's why the show didn't quite last a year in the West End (it closed on 15 October), although it begins a UK tour in September 2023. But the one indisputably wonderful part of this otherwise flawed enterprise is the music: in all their various incarnations, The Drifters have a fantastic back catalogue, and the original cast featured an embarrassment of vocal riches. That's beautifully captured on this rich studio recording, which retains the buoyant spirit of the stage show while offering a sharper sound quality. You don't need to know the plot to enjoy it; if anything, this is the superior version.
'Under The Boardwalk' has that distinctive percussive hook and growling riff – delivered in style
It has bags of easy-listening charm, Chris Egan's orchestrations paying homage to the Drifters sound (the brisk swing rhythms and warm, super-smooth crooning) while adding a live-performance expansiveness; it's more big-band style, with prominent brass and woodwind and freer vocals, rather than a contained radio mix. So, Matt Henry's gorgeous voice undulates in tandem with a bluesy saxophone on 'Money Honey', Adam J Bernard lets rip on the electric-guitar-backed 'There Goes My Baby', while Tosh Wanogho-Maud – as the tortured Rudy Lewis – fills 'In The Land Of Make Believe' with wrenching emotion.
There's also pure retro joy on this soundtrack courtesy of The Drifters' breezy pop songs, all featuring incredibly tight harmonies. Tarinn Callender leads the adorably cheeky 'Saturday Night At The Movies', 'Fools Fall In Love' is doo-wop heaven, while 'Under The Boardwalk' has that distinctive percussive hook and growling riff – delivered in style.
Plus there's the sizeable bonus of Knight's powerhouse vocals. There's soulful sincerity to her covers of 'Follow Me' and 'Harlem Child', and she makes 'Nobody But Me' sound like a lost Tina Turner track. But the real thunderbolt is her mash-up of 'I Don't Wanna Go On Without You' and 'Stand By Me' (sung by a freshly bereaved Faye). It's a rip-roaring ballad with shattering top notes and tumbling riffs. That alone is worth the price of this excellent recording.
---
Album details
Ed Curtisbook (based on an idea by Tina Treadwell)
various music, lyrics
Cast Beverley Knight, Tosh Wanogho-Maud, Adam J Bernard, Tarinn Callender, Matt Henry
Band Adam Goldsmith, Phil Mulford, Neal Wilkinson, Karl Vanden Bossche, Simon Gardner, Craig Wild, Daniel Higham, Martin Williams, Dave Bishop
Tag8 Music / BMG Rights Management