SIX: Live on Opening Night (Original Broadway Cast Recording) | Review
Edward Seckerson
Monday, February 27, 2023
The engineering places you on stage and in the audience at the same time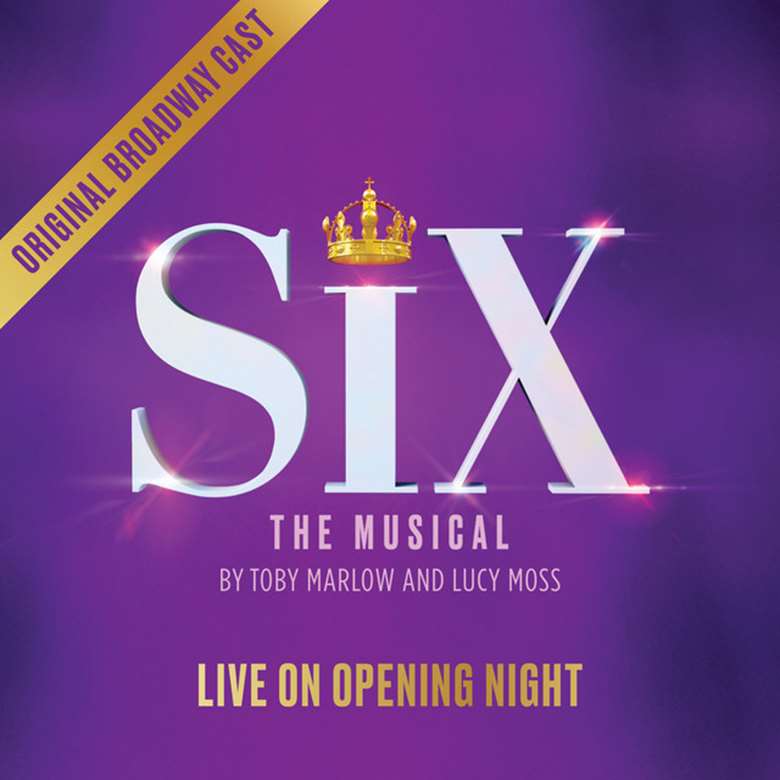 'Heard all about these rockin' chicks, loved every song and each remix…' Those words resonate pretty much globally now, and as contemporary musicals go there's no phenomenon quite like Toby Marlow and Lucy Moss's SIX. Its Broadway opening was famously halted by the pandemic only hours before anyone set foot on the red carpet and it seems only fitting that two years later they should be fielding microphones to capture the moment that one false start finally became a bit of Broadway history. This is the first time that an opening night on Broadway has been recorded live. You can taste the occasion.
When I first caught SIX it had graduated from Cambridge University, turned heads at the 2017 Edinburgh Fringe Festival, and was fast achieving cult status at the tiny Arts Theatre in London. Repeat attendees were many and every one of them arrived humming the tunes and mouthing the lyrics. Why? Because they are insidiously memorable. Put simply, this was one hell of a good idea writ large in the smartest lyrics and catchiest musical hooks to have come home in an age.
Abby Mueller rips out the thrilling key change with an intensity to melt your face
And because it chimes with the here and now, deploying modern vernacular in ways that pull you up short and have you laughing out loud, it travels well. The queens are universal – it's just that their story happens to be rooted in 16th-century English history. When Katherine Howard (pert, feisty Samantha Pauly) tears into 'All You Wanna Do' – a hymn to male disingenuousness if ever there was one – she observes: 'Some guys just employ women to get them into their private chambers. It was a different time back then.'
So the contest to become the most-wronged of Henry VIII's wives and lead the band Six (or was that the Tudor Von Trapps or the Royalling Stones?) is so much more than a crowns-at-dawn affair but rather a way of liberating these queens from forever being defined by their spouse and instead being remembered as individuals.
Thus Broadway's storming six revel (as do we) in their fierce individuality, both as singers and as personalities. Adrianna Hicks's 'No Way' has attitude to spare just as Andrea Macasaet's Anne Boleyn ('My sleeves may be green but my lipstick's red') is 'sorry, not sorry', that events of her own making might be about to cost her her head. The show's great ballad 'Heart Of Stone' is Jane Seymour's heartfelt realisation that she might have been the only one he truly loved ('Rude' is her sisters' retort). Abby Mueller rips out the thrilling key change with an intensity to melt your face. And then there's Brittney Mack's 'Get Down' – Henry's indifference turning Anna of Cleves into some kind of royal dominatrix – and Anna Uzele's 'I Don't Need Your Love', Catherine Parr's plea for autonomy. Another brilliant song from a darker place.
The high-tech, super-charged engineering places you on stage and in the audience at one and the same time, and come the culminating 'Six' and 'Megasix' the only option is to pump up the volume. Futile to resist the rhythmic hand-clapping. 'We're one of a kind, no category, too many years lost in his story.' Just so. #MeToo.
---
Album details
Toby Marlow, Lucy Moss music, lyrics
Cast Abby Mueller, Samantha Pauly, Adrianna Hicks, Andrea Macasaet, Brittney Mack, Anna Uzele et al
Band Michelle Osbourne, Kimi Hayes, Elena Bonomo, Mariana Ramírez / Julia Schade
Loudmouth Music