Sister Act | Live Show Review
Marianka Swain
Friday, March 24, 2023
Beverley Knight proves to be a heaven-sent replacement, bringing serious vocal fireworks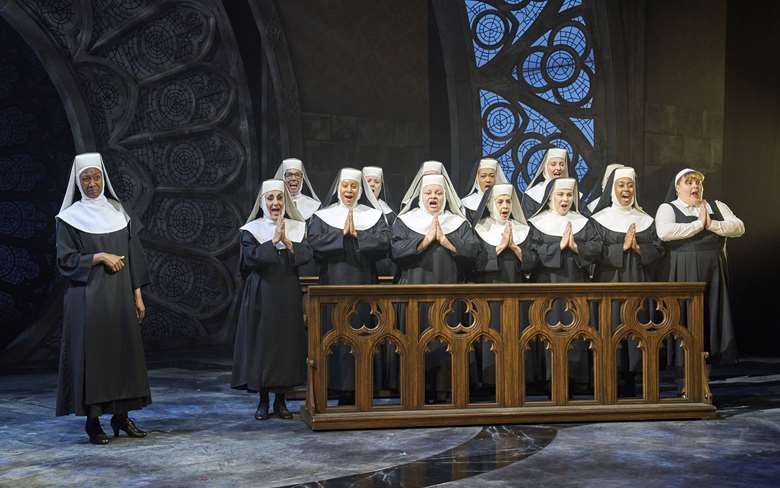 The theatre gods move in mysterious ways. This revival of Sister Act, beginning its tour at the cavernous Eventim Apollo arena, was built around a genuine casting coup: Whoopi Goldberg, star of the original 1992 film, back in the habit as Deloris Van Cartier, with the 2006 musical specially rewritten for an older actress in the role. Then came Covid delays, and Goldberg unfortunately had to withdraw. Her replacement offers significant advantages in Musical Theatre terms, but the worry remained: would this be a galaxy-sized venue without a star?
The scene-stealers are actually the veteran nuns: Lesley Joseph as the masochistic, rapping Sister Mary Lazarus, plus Tricia Deighton and Lori Haley Fox as the resident eccentrics
In short: no. Beverley Knight proves a heaven-sent replacement, bringing not just vocal fireworks but clever characterisation too. She gives Deloris, the lounge singer who hides out in a convent after witnessing her gangster boyfriend killing an informant, a brash, brassy, street-wise shell, her humour a well-honed defence mechanism. It makes sense of this grafter who has clung on to her spot, however dismal, in the music industry. That adds heft to Deloris's dramatic arc as she embraces this sisterhood – swapping individual ambition for collective bliss.
Of course, Knight also sings the hell out of Alan Menken and Glenn Slater's 1970s-style score (and if disco pastiche this joyous doesn't evoke a higher power, what will?). Numbers like 'Fabulous, Baby!', all cascading riffs and roof-raising top notes, suit her dynamite delivery – just as with previous Delorises like Cynthia Erivo. And she must be the only theatrical heroine to have a life-changing realisation while straddling a mirror ball.

Her co-star can't lay claim to such vocal prowess – or any at all really. Nor is Jennifer Saunders convincing as the austere Mother Superior; she is more a grumpy middle manager with a good line in sarcastic quips and a hidden hip flask. On the rare occasions that she hits the right notes during her speak-singing, it feels like divine intervention, and in the dances, an ensemble member steers her round like a shopping trolley with a stuck wheel. And yet: she's so game that you forgive her. Plus, she fills that Whoopi-shaped, comedy veteran void.
Keala Settle – who rose to fame in The Greatest Showman, and recently impressed in & Juliet in the West End – brings mega projection and manic energy to the alarmingly cheerful Sister Mary Patrick. Lizzie Bea, late of Hairspray, gives 'The Life I Never Led' a sweet-voiced yearning, and Clive Rowe, as cop 'Steady' Eddie Souther, pulls off a truly spectacular costume quick-change. But the stealthy scene-stealers are actually the veteran nuns: Lesley Joseph as the masochistic, rapping Sister Mary Lazarus, plus Tricia Deighton and Lori Haley Fox as the resident eccentrics.
The trouble is that once this choir has found its disco-fuelled voice – and groovy moves courtesy of Alistair David – you just want more of that. Instead, we have to endure the tiresome slapstick mobsters, whose racism and misogyny can't just be excused by the period setting. The second half also features far too many slow numbers as we unpack everyone's dreams and disappointments. Saunders's crisis-of-faith number doesn't connect because she is still in comic mode. As is the whole production generally, played in a cartoonishly broad register in order to fill this intimidating space. The unusually shallow and wide stage of the Apollo is a challenge, too; Morgan Large's stained-glass window design proves an overpowering backdrop. That problem may well be solved by the show going into more conventional theatres on tour.
The tour cast might also commit to Philadelphia accents; here, Knight retains her Arkansas twang from The Drifters Girl, and Joseph is resolutely British. But if you're buying a ticket hoping to see nuns in rainbow-sequin habits boogieing away, in a show that demonstrates the sheer persistence of Musical Theatre, your faith will certainly be repaid.
---
Sister Act - information
Music Alan Menken Lyrics Glenn Slater Book Bill Steinkellner, Cheri Steinkellner Additional book material Douglas Carter Beane 
Eventim Apollo: 19 July – 28 August 2022, then touring 20 September 2022 – 27 January 2024
Reviewed on 29 July 2022
---
Production credits
London cast Beverley Knight, Jennifer Saunders, Keala Settle, Lesley Joseph, Clive Rowe, Lizzie Bea, Jeremy Secomb, Graham Macduff, Tricia Deighton, Lori Haley Fox, Damian Buhagiar, Tom Hopcroft, Bradley Judge, Tanya Edwards, Gabrielle Davina Smith, Castell Parker et al
Producers Jamie Wilson, Whoopi Goldberg Direction Bill Buckhurst Musical supervision Stephen Brooker Orchestrations Doug Besterman, Mark Cumberland Musical direction Jae Alexander Set, costumes Morgan Large Choreography Alistair David Lighting Tim Mitchell Sound Tom Marshall
---
Do you love Musical Theatre? Then make sure you never miss an issue of Musicals magazine – subscribe today