MJ the Musical | Live Show Review
Matt Wolf
Thursday, June 1, 2023
MJ the Musical weds the astonishing output of the 'King of Pop' to a Tony-winning dance-heavy show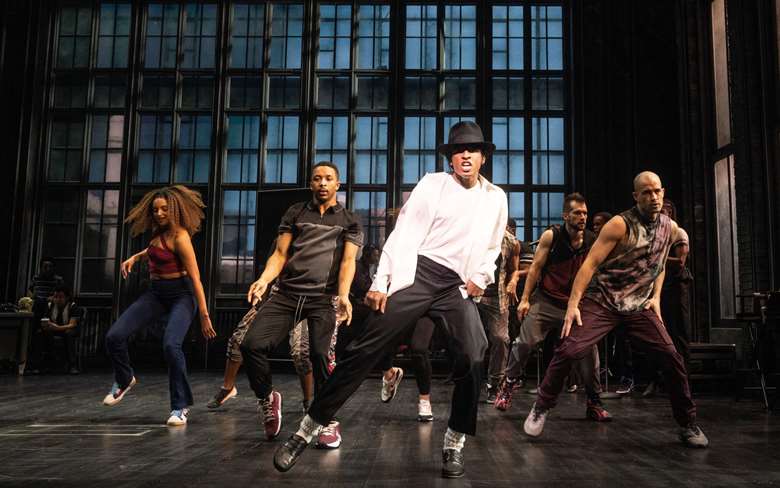 On paper, MJ seems decidedly dicey. It's a biomusical about a powerhouse entertainer, to be sure – the Michael Jackson of the shortened but easily recognised title – but a superstar whose legacy has been clouded by charges of sexual abuse representing an elephant in the room that no amount of acquittals or denials can alter. And yet, the director-choreographer Christopher Wheeldon has made from Jackson's life and work an electrifying entertainment that weds the astonishing output of the 'King of Pop' to a dance-heavy show that brought this regular of the Royal Ballet and New York City Ballet his second Tony Award for choreography – following An American in Paris in 2015. That means the New York-based Englishman is two for two when it comes to choreography Tonys for Broadway shows that he has also directed.
Is this Jackson warts and all? No, although MJ to be fair doesn't pretend to be that
The signature look is there – the cocked hat and curved shoulders and a limber insouciance that owes a debt to Fred Astaire and Bob Fosse, both of whom feature in passing; so, too, do banner Black entertainers of a previous era like the dancing Nicholas Brothers, of erstwhile Cotton Club fame. Two younger performers join Myles Frost to play Michael Jackson at various formative points along the way, the gyrations here given a Broadway-style attack that can be replicated eight times a week as would never be required of a pop singer on tour. The charismatic leading man Frost, himself a Tony winner, has two standbys to help ease a load that requires him to deliver the better part of 40 songs, almost all of them identifiable from the start.
But what of the story related by this latest in a seemingly endless stream of jukebox titles – we've had musicals devoted to Frankie Valli, Cher, The Temptations and Carole King, among many others, while A Beautiful Noise, due on Broadway in November, puts Neil Diamond's back catalogue centre stage. The portrait of domestic abuse on view in Tina – The Tina Turner Musical reaches modern-day playgoers with the full awareness that Tina herself forged a triumphant way forward; Jackson's trajectory was even more cataclysmic – record sales in excess of 1 billion – but is tempered by nagging questions that cannot be conclusively answered following Jackson's death, age 50, in 2009.

I steered clear of Thriller, the Jackson-driven jukebox musical which had an 11-year run on Shaftesbury Avenue and which became a shrine of sorts for fans. MJ is a different entity altogether, conjoining a ballet whiz (Wheeldon's Winter's Tale is a genuine glory) with a two-time Pulitzer prize-winner in book writer Lynn Nottage, who has cannily set the show a year before the onset of accusations against Jackson in 1993.
The format finds two MTV reporters on hand to talk to the hesitant-seeming icon in the immediate run-up to his Dangerous World Tour: as with Tina, MJ ends at the actual concert, with an invitation to the audience to rock out during the curtain call – which they do. And as one might expect from an entertainment blessed by the Jackson Estate, any other discussion extends only so far. Keep it about the songs, not the singer, we're told more than once in various ways, even as Frost's coyly demure and mysterious MJ makes plain that 'on stage is where I feel alive'. Here's someone with a stated penchant for cotton candy and world peace (much is made of Jackson's charitable endeavours, which were considerable), and it's left to the odd snippet of dialogue, and sets by Derek McLane that acknowledge Jackson as a tabloid darling, to acknowledge the flip side of his singular fame.
Is this Jackson warts and all? No, although MJ to be fair doesn't pretend to be that. But as a scintillating exercise in Broadway know-how (Natasha Katz's lighting is wizardly), it's a genuine wow whose international journey, you feel, has only just begun.
---
Production Credits
Cast Myles Frost, Quentin Earl Darrington, Whitney Bashor, Gabriel Ruiz, Walter Russell III, Christian Wilson, Tavon Olds-Sample, Devin Trey Campbell, Antoine L Smith, Joey Sorge, Raymond Baynard, John Edwards, Ayana George 
Producers Lia Vollack, John Branca, John McClain, Sony Pictures Entertainment, Sony Music Entertainment
Direction, choreography Christopher Wheeldon 
Set Derek McLane 
Costumes Paul Tazewell
Musical direction, orchestration, arrangements Jason Michael Webb
Musical supervision, orchestration, arrangements David Holcenberg 
Lighting Natasha Katz
Sound Gareth Owen
---
Do you love Musical Theatre? Then make sure you never miss an issue of Musicals magazine – subscribe today