SIX: how the musical became a worldwide phenomenon
Tim Bano
Monday, September 11, 2023
Tim Bano speaks to SIX's creators and producers to uncover why this pop musical about Henry VIII's wives has such enduring, widespread appeal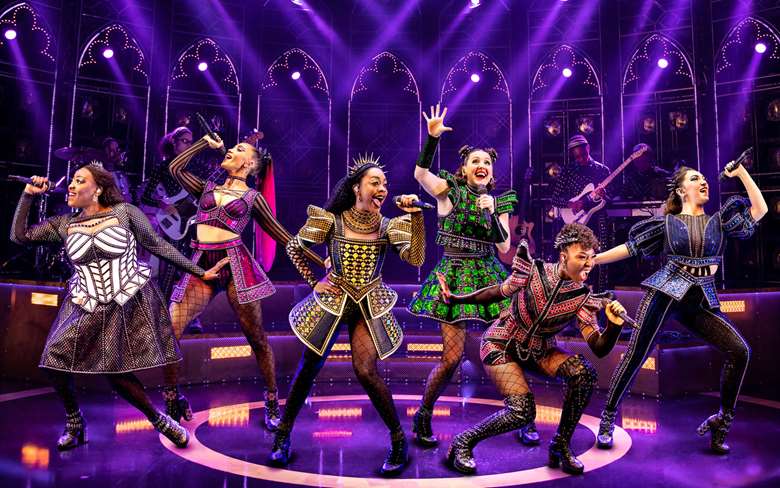 It's February 2023. Toby Marlow and Lucy Moss have just been to the Grammys, decked in matching green metallic moiré and black corsets. 'It was very exciting,' says Marlow on a Zoom call from LA a few days later. 'And very long,' adds Moss.
When they sat down at a piano in Cambridge in 2017 to write a musical about the wives of Henry VIII, they were inspired by some of the greatest women in the pop world, J Lo and Beyoncé among them. Six years later (how appropriate!), they're at an awards ceremony nominated alongside them.
We were consciously trying to make it as unalienating as possible
Lucy Moss

It's quite a journey for a musical that started life as a student project to be showcased at the Edinburgh Festival. SIX is now not just a national phenomenon but a global one. In addition to its ongoing West End production and UK tour, it has two US tours (which included a Las Vegas residency last September), a Broadway run, cruise-ship productions and an Australian season under its belt; a Korean run began in late March, and more performances are planned for later this year in Amsterdam, Rotterdam and Toronto. The Queens have gone global.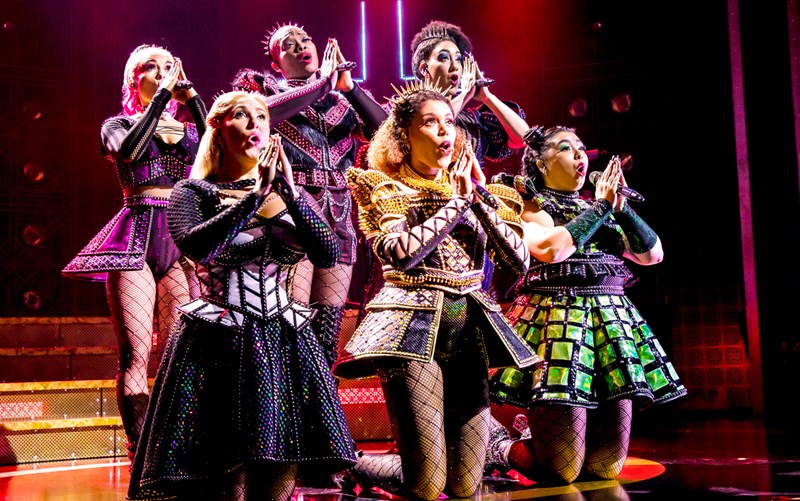 The cast of SIX (photo: Pamela Raith)
So how do its writers, Marlow and Moss, feel about it all? 'It's been a lot of admin,' Marlow laughs. Moss squeezes in next to him. 'Being near Beyoncé was very cool.'
The story of SIX has been told almost as many times as the lives of its characters. It all started when Marlow was asked to write a piece for the Cambridge University Musical Theatre Society. While day-dreaming in a poetry class (he was studying English Literature), the idea came to him to write about the six wives, present it as a pop concert, and put women and non-binary people front and centre.
Over 10 disparate days, Marlow and Moss sat at a piano with a shared Google Doc and created the show pretty much as it is today, all while revising for their final exams. 'It was like, "I've got a tragedy paper tomorrow but I have to finish that bloody Anna of Cleves song",' describes Marlow.

Some of what makes SIX so unique was deliberate; some was pure necessity. In Edinburgh, shows don't generally run longer than an hour, so they kept it short. But the pair wanted it to appeal to audiences who wouldn't normally go to musicals. 'Lots of our friends said they don't like people bursting into song for no reason,' says Moss. 'So we were like, "What if the characters are pop stars?" Then there's no question about why they're singing, and we can use that format to talk directly to the audience. We were consciously trying to make it as unalienating as possible.'
Broadway producer Kevin McCollum thinks that explains why the show has been so popular. 'Broadway at its height was the music of the popular day. Broadway songs were played on the radio. Toby and Lucy reverse-engineered it and said, "What is the popular music of the day?" and they used that vocabulary to talk about the wives of Henry VIII.'
So in August 2017, in a hotel conference room, Edinburgh audiences saw the show for the first time. Among them were producers Andy and Wendy Barnes – who had just set up their company Global Musicals to produce new Musical Theatre in the UK – and Kenny Wax, whose show The Play That Goes Wrong was running in London. For Andy it was a no-brainer. 'What made it stand out was that the show knew exactly what it wanted to say, and it clearly resonated with people. There was none of this, "What are you trying to achieve here? What do you want us to go away thinking?" It was all there.'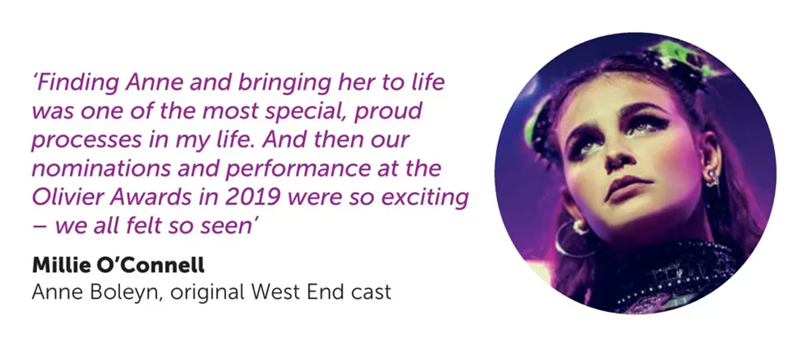 After the first Edinburgh run, Marlow and Moss were inundated with offers. A lot of them suggested big structural changes, adding storylines, even removing the pop concert set-up. Global Musicals and Kenny Wax knew the show worked best as it was.
Marlow and Moss met both producers and, unusually, asked both to take on the show. The Barneses had never met Wax, but Wendy and Andy got together with Kenny and it's been a golden relationship. Where Wax had worked in the West End and Broadway, Global had experience in Edinburgh and with artist development.
But SIX was not an obvious candidate for success. 'It was written by two university graduates who nobody had heard of,' says Wendy Barnes. 'It wasn't a title anyone had heard of, it didn't have any artists in it that anybody had heard of, or any jukebox songs that anyone had heard of. So it had pretty much everything going against it.'
Adds Andy: 'The biggest thing we've taken away from it all is showing the industry it's possible, and saying to them: "Can we please be a bit more ambitious?"'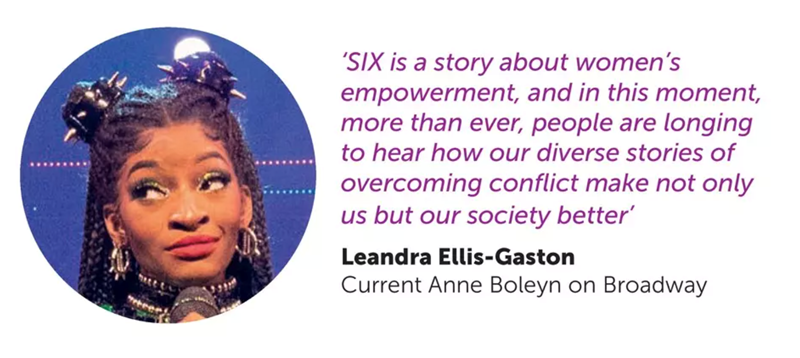 Their instincts after seeing the show were all different. Andy wanted to take the show back to Edinburgh as a jumping-off point for a future life. Wendy wanted to get the songs out to audiences as directly as possible and suggested recording an album. Wax had eyes on the West End, and thought that Monday nights at the Arts Theatre, which would otherwise be dark then, would make a perfect showcase. Instead of arguing the toss, they did all three.
And all three approaches worked. The show returned to Edinburgh in 2018, bringing with it a strong design, thanks to that iconic purple poster and Gabriella Slade's costumes. All they needed were audiences. 'On the first performance I sat in the middle of the seats, spreading out to try and make it seem like there were more people in the auditorium,' recalls Andy.
'A few days later,' adds Wendy, 'Phillip Schofield was tweeting that he couldn't get a ticket. It was that quick.' Back in London, the small size of the Arts proved, at 350 seats, to be the perfect proving ground for a show by two unknowns.
The album, meanwhile, surpassed anyone's wildest expectations. Released in autumn 2018, within just six months it became the second-most-streamed cast recording in the world, behind only Hamilton. It harks back to when Andrew Lloyd Webber and Tim Rice used studio recordings of Jesus Christ Superstar and Evita to drum up audiences before the show was even on stage. 'I grew up listening to those albums and then seeing the show,' says Wendy. 'This was new writing back in the day, that's why they did it – and that's why we did it too, to introduce people to these composers and songs, to let them know what we're asking them to spend their money on.'

Recording the album has been one of the highlights of the journey for Marlow. The notes they bashed out at the piano or recorded into voice memos on their phone were transformed into professional pop songs. 'Even when we were writing it,' explains Moss, 'we had a very good idea of what we wanted each song to sound like. We'd say things like "We want this verse to sound like this J Lo song" and orchestrator Tom Curran would come back with something that sounded exactly like we wanted – or something completely different but really interesting.'
'Originally we had been like, "Make them sound like pop songs!''' Marlow adds. 'But he was really good at saying: "OK, but how about we put in some bits that are more conceptual?" So he folded in the harpsichord sounds and things like that.'
Marlow and Moss thought the recording would be a useful promotional tool for that second Edinburgh run. They had no idea how crucial it would be in making SIX a global hit. The album has now been streamed more than 350 million times on Spotify alone. (The Broadway cast's 'SIX: Live on Opening Night', out last May, has had over 40 million streams and counting). Plus, every few months another clip of a track goes viral on TikTok, with views reaching into billions. 'Those kids,' says Moss. 'Those crazy kids with their dance routines,' chimes in Marlow.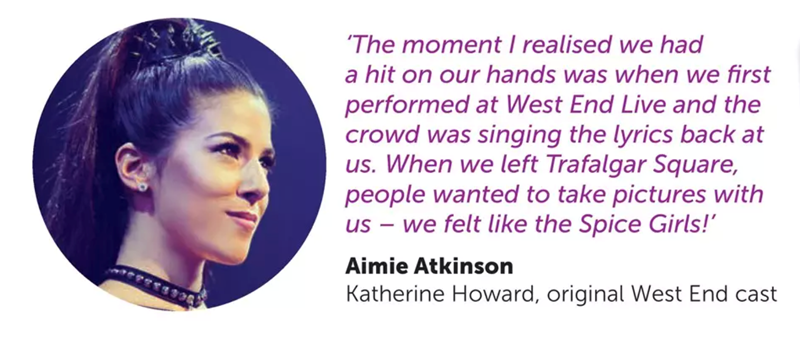 That's not to say there weren't difficulties on the road to world domination. Outside of Edinburgh and London, tickets were harder to shift. A night in Southampton played to a mostly empty house. The producers were trying to arrange a UK tour for the show, and meeting a lot of resistance from theatres.
Andy explains: 'There was no interval, which meant they couldn't open up their bar. There were lots of people saying we needed to find another show to go with it, or we needed to put an interval in, or wanting things a certain way because it's always done that way.'
No sooner had it settled in London, SIX started spreading out into the world with a US tour and a run at Sydney Opera House. But when it came time to take the show to Broadway, there was a big snag.
It was March 2020, and three hours before the curtain was due to rise on the show's opening night, Covid-19 shut down New York. But even before that catastrophic series of events, there had been challenges in getting SIX across the Atlantic. Would American audiences go for a show about British history?
'There was definitely a lot of conversation and maybe a fear around how it would play in the USA because of the historical stuff,' suggests Moss. 'But I think we knew we had something special and that people were going to like it.'
Broadway producer McCollum, behind hits including Rent, Avenue Q and In The Heights, had no such qualms. 'I was clear that this was a Broadway show. Even though we're not brought up with Tudor history in our schools, what we do know in our country is that everybody has a voice in the ideal notion of America. That was under threat. I saw the zeitgeist of today being articulated in a musical about women being defined by powerful men. It was more than Hamilton meets a Spice Girls concert. Like all great pieces of art, it speaks to our time in a robust way that's wrapped in great entertainment.'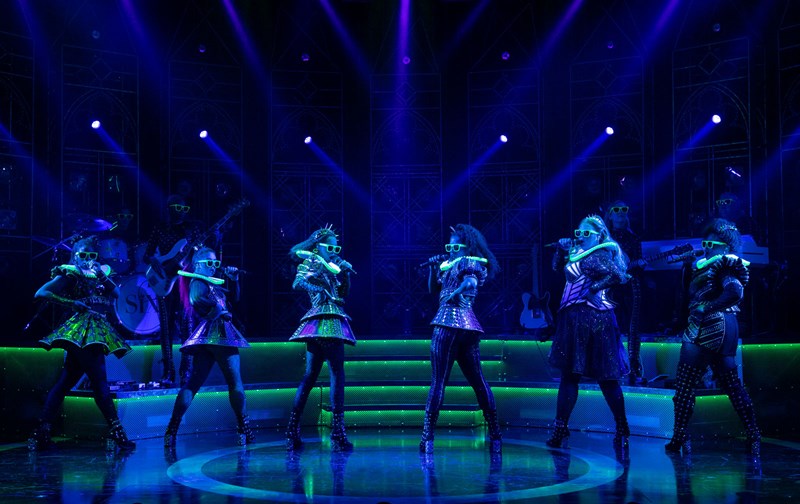 Welcome to the Haus of Holbein! SIX slays America with its royally fabulous 2023 Broadway cast (photography: Joan Marcus)
The US is one thing but, with the musical now opening in Seoul, what exactly is the international appeal of a show about the wives of a 16th-century English monarch? The producers all agree: it's a brisk running time, it's accessible, and its message is simple and strong. There's very little narrative, and very little prior knowledge required.
There is still the thorny question, though, of translation. Although the Korean premiere will be in English, a Korean-language version will open soon afterwards. So how do you translate such witty, wordplay-laden and historically literate lyrics as those found in SIX into other languages? 'You just hope that the translator's good,' Wendy laughs.
Moss explains: 'You get sent a document that's got the original lyric, the translated lyric in Korean and then the lyric translated back into English literally. Then we have several big chats and meetings and back- and-forth notes asking the intention behind a particular translation.'
Take this bit of libretto:
Seymour: We're here to help you figure out which of us is…
Cleves: The Queen of the Castle.
Seymour: The rose among the thorns.
Howard: The Thomas Cromwell among the royal ministers between 1532 and 1540.
As Moss recalls, 'They said, "In our country people don't know Thomas Cromwell, so we thought we'd change it to a different historical figure," and we've had to say, "No, the joke is that nobody [in the audience] knows who that is. The joke is that they're historical queens, so they know who he is."
'It takes five minutes to break down the joke in a stupid line we wrote,' says Marlow. 'It doesn't seem funny at all when you start to explain it. At times it can be mortifying.'
Meanwhile, along with launching these international versions, the producers also have the responsibility of a long-running West End show. Andy continues: 'There are difficulties that come with having a team of people in one job for so long. You have to make sure they know they're valued, you have to keep freshening it up.'
'It's like having a kid,' says Wendy, 'seeing it through to what it can be, keeping it alive.' 'Or a theatrical Tamagotchi,' says Andy.
Both Marlow and Moss have worked on other projects in the meantime: Moss directed a spectacular production of Legally Blonde at Regent's Park Open Air Theatre last summer. But the question that's nagged them even as they continued to shape SIX is: what comes next?
'A few days ago we finished the first draft of a new musical called Why Am I So Single,' Marlow tells me. 'A whole draft! It made us realise we can write another musical. There were times when we thought we couldn't. But even all these years later, when we're writing, even though it's very pressurised, we still manage to make each other laugh every day.'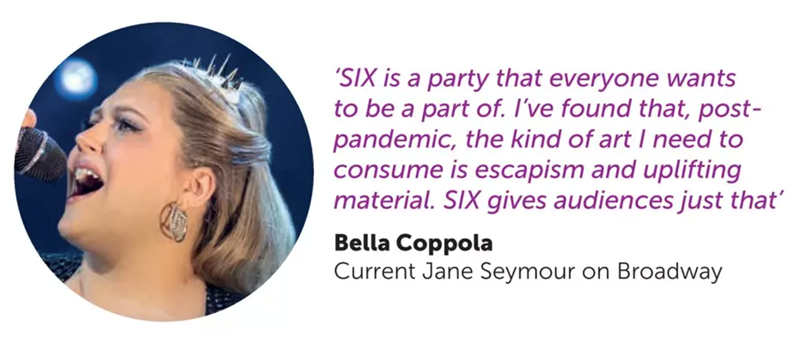 They have a shared notes document in which they write down rhymes they've never heard before, and in the writing room they see if they can work them into songs. 'In the new show we've rhymed "Slide right out of my DMs" with "Hit me up again in your dre-ams",' says Moss. 'It's not a rhyme but it makes us laugh because it's stupid.'
As for SIX, the producers are clear about why it works so well across the world: it's short, it has a small cast which makes it easier to keep ticket prices low, and audiences are inspired by the diversity that they see on stage. But above all, SIX embodies its message about representation, respect, plural voices and the importance of having fun. 'We're one of a kind, no category', the Queens sing, and it's as true for them as for the show itself.
---
For more on SIX (West End, UK tour, Broadway, globally) visit sixthemusical.com
This article originally appeared in the April/May 2023 issue of Musicals magazine. Never miss an issue – subscribe to Musicals today!