Guys & Dolls: behind the scenes of Nicholas Hytner's new production
Matt Wolf
Tuesday, May 23, 2023
For his new, immersive Guys & Dolls, Nicholas Hytner is challenging the audience's perception of what this classic Broadway musical can be. Matt Wolf speaks to him, and to his fellow creatives, to find out if their vision will pay off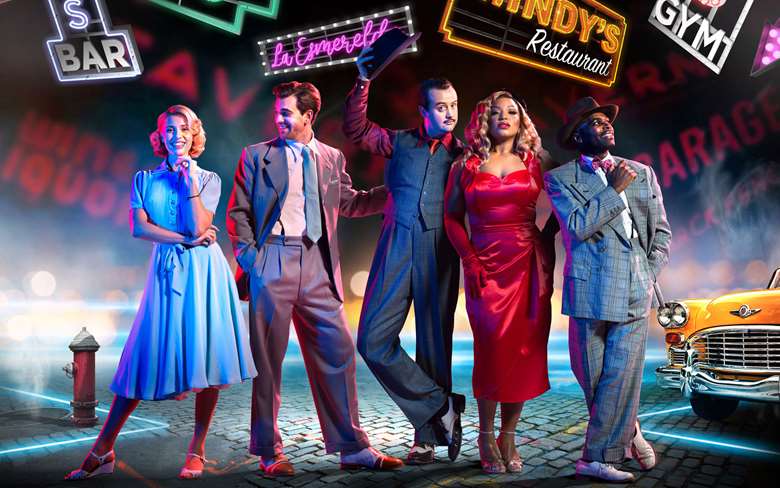 We seem, in London, rarely to be without Guys & Dolls. At least one major revival of Frank Loesser's treasured 1950 Broadway musical has come along every decade in the 39 years I've lived this side of the Atlantic, and those revivals often themselves get revived: Richard Eyre's seminal 1982 production, the first ever musical to play a National Theatre once thought too lofty for such art forms, was brought back there in 1996, and we've had major productions from the directors Michael Grandage, in 2005, and Gordon Greenberg, in 2016; that last-named production began in Chichester in 2014 and ended up bringing Rebel Wilson, of all people, to the London stage to play that eternal bride, Miss Adelaide, when its West End transfer got extended.
I never thought I would have the opportunity to do this, and now there's going to be another girl behind me who will be able to do it because I did
Marisha Wallace, Miss Adelaide

Where better, then, to revisit a title that occupies a singular place in English playgoers' affections than the Bridge Theatre, directed by the man responsible for that Thames-side venue, Nicholas Hytner? In December 1992, Hytner opened a revival of Carousel at the National, the address he then went on to run, and I'm not alone in regarding that staging – which transferred to the West End and to New York's Lincoln Center (a young Audra McDonald was Carrie Pipperidge) – as the finest Rodgers and Hammerstein reappraisal I've yet seen.

'Where did that time go?' Hytner is asking rhetorically one January lunchtime, explaining his decision to return to the well for what, astonishingly, is his first London musical production, old or new, since then – this from the director who had been mooted back in the day to direct the movie version of Chicago, which went instead to a Broadway name, Rob Marshall.

The lure, of course, for this project was the space itself: a flexible theatre that first opened in 2017 and was one of the earliest playhouses to receive visitors, albeit socially isolated, as the pandemic was still coursing its way through Britain.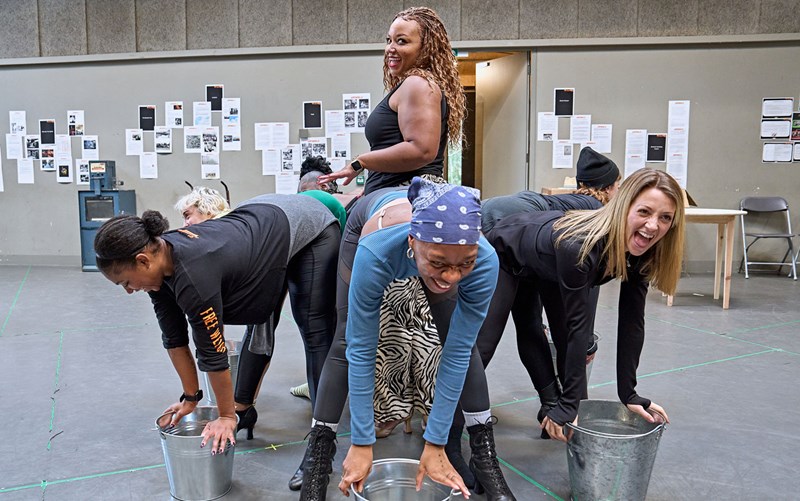 Guys & Dolls cast members (Marisha Wallace, centre) prepare for Hytner's immersive production (photo: Manuel Harlan)
Hytner has triumphed twice at the Bridge with promenade-style productions of Shakespeare (Julius Caesar and A Midsummer Night's Dream) that allowed audiences to track the action around a central stage floor which had been stripped bare of seats; at the same time, others could watch, seated, from vantage points to the side or up above. 'I wanted to do a musical using the Bridge in that format,' explains Hytner, 'and I thought that if we found the right one, it could be really exciting to involve the audience in the way we did the two Shakespeares: to keep the show mobile in the way those two were.'
Despite, or perhaps because of, Hytner's success with Carousel, he admits to being cautious about a lot of musicals: after all, once you've supped with the best, what could possibly equal that experience? 'I wanted a musical that would bear comparison with the other great classics of the stage, and there aren't that many.' In fact, he had seen Eyre's Guys & Dolls in 1982 and was smitten with the show from that point on. As he recalls: 'I thought, "Here is an absolutely phenomenal musical"' – and one that some years later he realised he could refashion afresh, which is to say immersively, with the audience following the narrative fold, as it were, to co-opt a lyric from Loesser's indelible score. Hytner thought it important to check in with Eyre to get his blessing. 'I felt it necessary to call Richard and say, "I'm doing this; I hope you don't mind." His production feels like the definitive one.'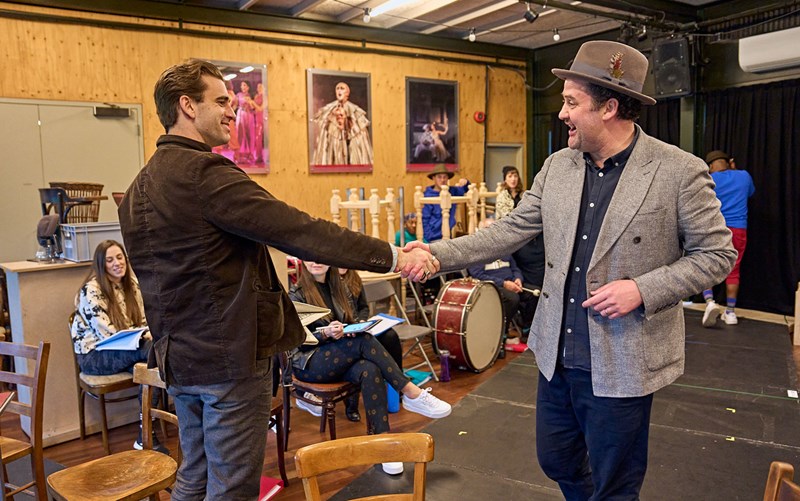 Andrew Richardson and Daniel Mays in rehearsal (photo: Manuel Harlan)
What was the very particular appeal this time out? 'I thought, if we pull this off, it will have an immediacy, a connection and sense of involvement that you don't often get. I love a proscenium arch and an orchestra pit, but there's something about having a swing band in the same room as you that is kind of streets ahead, really.'
In practical terms, the decision also meant that a theatre which normally holds 890 could now accommodate 1,040 and that those who had paid the least – the 420 people standing in the pit – would also be closest to the performers, as is the case down river at Shakespeare's Globe.
Nick has such an incredible way of taking something that happens in a period of time where you think, 'My God, I wish I lived in that era'
Arlene Phillips, choreographer

'People could be part of the action and move around and get involved: it did feel like, OK, sure, we can take them to Times Square and the Hot Box, to Havana and down in the sewers' – all locations that are crucial to this self-described 'musical fable of Broadway', steeped in the writing of Damon Runyon.

In performing terms, that meant a set-up which would allow Marisha Wallace, the expatriate American here cast as the adenoidal Miss Adelaide (she and Cedric Neal, playing Nicely Nicely Johnson, are the two Yanks in the company), to sing that Hot Box dancer's celebrated lament practically to your face. With casting that includes film and TV name Daniel Mays making his Musical Theatre debut as Nathan Detroit and an arresting newcomer, Andrew Richardson, as Sky Masterson, plus the glorious-voiced Dutch performer Celinde Schoenmaker as Sarah, the show has initially been scheduled for a six-month run – which is both long and financially advantageous for this address, with Broadway sure to come calling if, indeed, luck be a lady.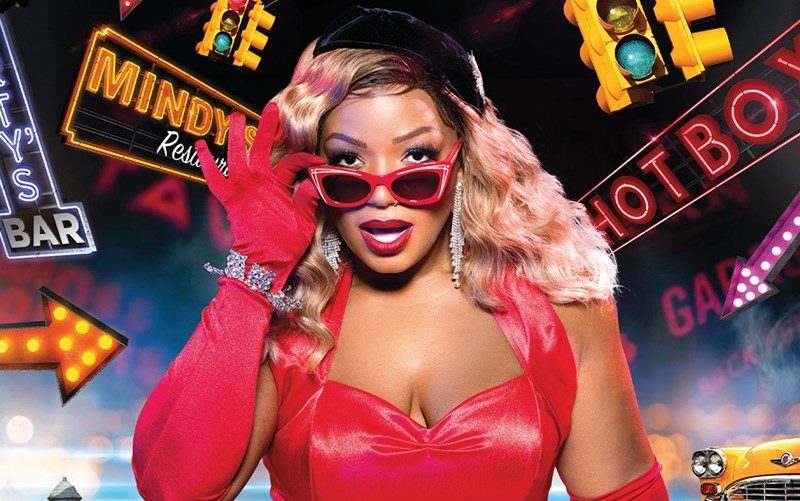 Marisha Wallace as Adelaide
It was important to figure out how the show would sound, look, and move. 'The story goes into the movement: it isn't "applaud, applaud, applaud, thena scene",' says Arlene Phillips, the dance world legend – herself a Dame – who will be 80 in May. Phillips hasbeen recognised this year with a Special Olivier Award, and worked with Hytner on his ambulatory Dream.On this production, as with that one, she is joined bya contemporary colleague, James Cousins, to devise the steps for a dance-intensive show. ('The pair of them are absolutely fantastic together,' notes Hytner.)
The Guys & Dolls offer was, says Phillips, a no-brainer. 'When this one came around, I thought: "I have to do it." Not only is this a musical I love and one I brought my girls up on, but Nick has such an incredible way of taking something that happens in a certain period of time where you think, "My God, I wish I lived in that era." He makes it that enviable place where you want to be.' She is still working through Act One at the time of our chat but is excited about what's in store and speaks, for instance, of the Hot Box Girls as 'pioneers – women who won't stand for any nonsense. They don't want to be the little woman in the kitchen but someplace where they can express themselves: they're very, very different.' The approach, she says, is less insistent upon dance breaks and more on the fact that 'our actors become the dancers when needed' in a staging that nonetheless promises 'big moments you can't resist'.
What about the challenge built into creating dances in a space where the audience will be right in there with the company? 'This will be a very tangible show where you'll want – be invited – to reach out and touch.' The intention isn't for showstoppers per se, though there are sure to be some, but more a sense of 'movement as a life force', not least in that defining section of the musical where the super-cool Sky whisks the prim (but not for long) mission doll Sarah off ona drunken bender to Havana.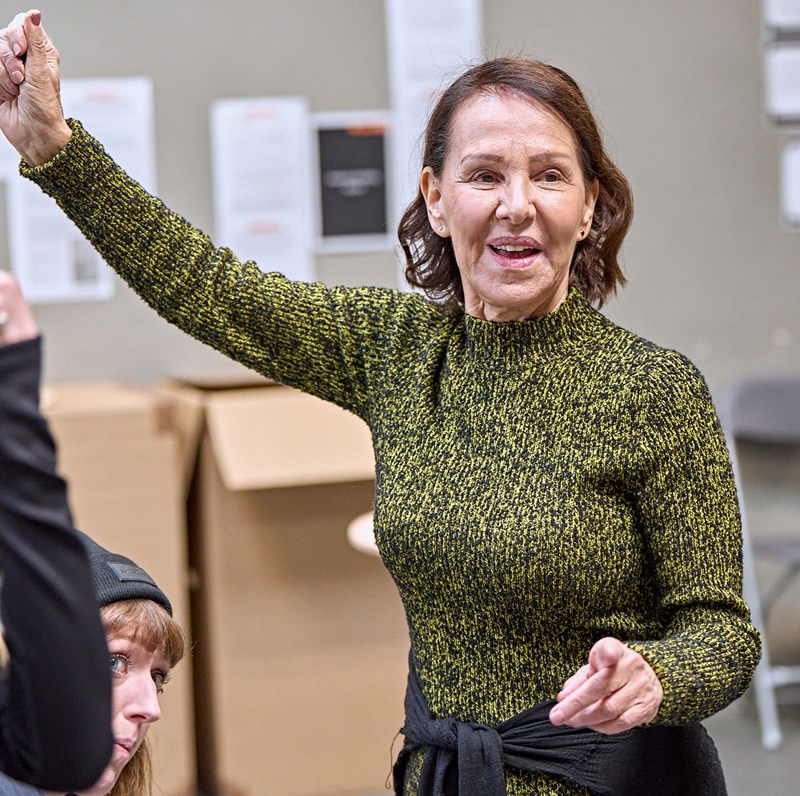 Arlene Phillips, choreographer (photo: Manuel Harlan)
Movement, of course, co-exists with music, and the show has in Tom Brady a musical director fresh from Oklahoma! at the Young Vic; he had to forgo the West End transfer to take on this job. That show Off West End had the audience on both sides of the action. With Guys & Dolls, there's 'the extra dimension' that comes with having playgoers in the pit 'where suddenly you're right next to, for example, Marisha, which we're hoping is going to be quite thrilling'. The 14-piece band will be visible in the dress circle playing a score orchestrated by Charlie Rosen – a Broadway name (Be More Chill) who, says Brady, 'is a swing demon: the Big Band is his world.' As for balancing the music so that the sound manages to be up close and personal downstairs while reaching the levels of the Bridge, 'that's where our amazing sound designer' – Paul Arditti – comes in. The company couples Musical Theatre newbies, like Mays, with those, like Neal, Wallace and Schoenmaker, whose 'vocals are off the scale': when Brady speaks of 'pinching myself at doing what I dreamed of as a child', this interviewer is right there with him.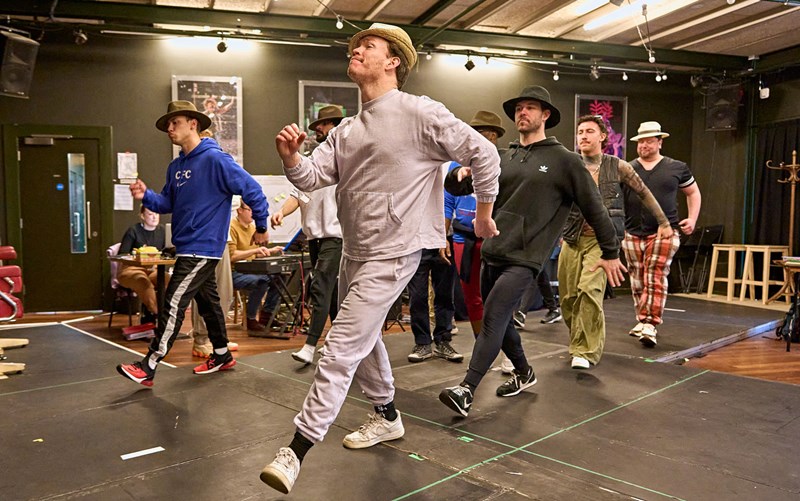 Guys & Dolls cast members prepare for Hytner's immersive production (photo: Manuel Harlan)
The design, in turn, is about establishing the necessarily enveloping environment, rather than delivering large pieces of set or even the exuberantly bright cityscape that distinguished Jerry Zaks's celebrated Broadway revival of Guys & Dolls in 1992, with Nathan Lane and Faith Prince. The designer here is Bunny Christie, who won Olivier and Tony Awards for the recent revival of Stephen Sondheim's Company, another iconic New York musical, so she knows the terrain – and loves this show.
'I was thrilled to be on board,' says Christie, yet another alum of Hytner's 2019 Dream. As with that production, with its elegant forest of hanging beds, less can be more: signage helps establish a sense of place, as does a 'busy street feel' in which 'noise and sound and feeling' are happening all around you. (In a theatre renowned for its sweet-smelling madeleines, expect to be able to buy a pretzel or a beer.) Christie's research has directed her deep into an appreciation of the clothes of the time; how showgirls looked, or people on the subway, or a woman like Sarah Brown who, says Christie, 'is negotiating a difficult job in New York'. With Adelaide, it's about finding the right look for a character who 'may not buy the most expensive stuff but who presents what she wears confidently: she's a [professional] girl in this club in New York but she's also about making the most of herself; she knows her figure, she knows herself.'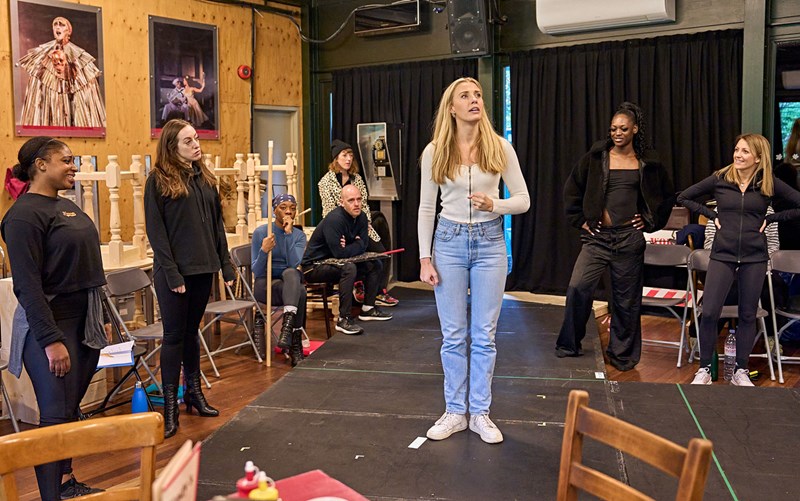 Celinde Schoenmaker (photo: Manuel Harlan)
Which in turn prompts one to wonder how Wallace is adapting to Runyonland following on from the farm territory of Oklahoma! last year. It helps, she says, that Hytner is the 'king of research' and chose a Runyon story for each cast member to read in building their character: Wallace's was Neat Strip, about a dancer who came from nothing and became a burlesque star. '[Nick] has such a vision that you feel safe; he also trusts you and will not cast anyone he doesn't trust.'
There is a throughline between Adelaide and the irrepressible Ado Annie (a role for which Wallace received an Olivier nomination). 'Adelaide is a bit more grown up but there's still the same fun and zest for life, the same hunger. I couldn't have played Adelaide without Ado Annie.' There's no doubt, Wallace says, laughing, that 'they would totally get along'. She in fact played a Mission Doll in a production of Guys & Dolls during college in North Carolina back in the day; the Adelaide then has gone on to become a dance teacher. But the performer exults in now being handed a starring role she didn't believe could ever be hers. 'I never thought I would have the opportunity to do this, and I really feel overwhelmed that I do, and now there's going to be another girl behind me who will be able to do it because I did.' Small wonder that she cites as influences on her Adelaide not so much its storied originator, Vivian Blaine, as Ella Fitzgerald, Billie Holiday, and all the jazz crooners of that time, alongside Chicago with 'that vaudeville kind of big voice thing'.
Wallace is speaking by phone the day after she first performed 'Adelaide's Lament' – a sung soliloquy as character-defining as anything by Shakespeare – for the entire company. 'They were sitting where the audience is going to be, and I loved having them right there. It's so extraordinary to get the true sound of a voice, and it feels like what I do in concert and with my music background. To be able to really connect with an audience…' She pauses, before adding: 'Just wait till you see [me] like that.' As this show puts it with eloquent simplicity, more we cannot wish you.
---
Matt Wolf is principal author of The Guys and Dolls Book, which was published by Nick Hern Books in 1997; Guys & Dolls at the Bridge Theatre is booking until 24 February 2024; book tickets HERE
Read our review: Guys & Dolls 
This article originally appeared in the April/May 2023 issue of Musicals magazine. Never miss an issue – subscribe today