Elaine Paige: 'Oklahoma! kind of broke the mould of Musical Theatre'
Elaine Paige
Sunday, September 10, 2023
Elaine Paige launches her new series on groundbreaking musicals for Musicals magazine with Rodgers and Hammerstein's first collaboration, which she originally encountered as a child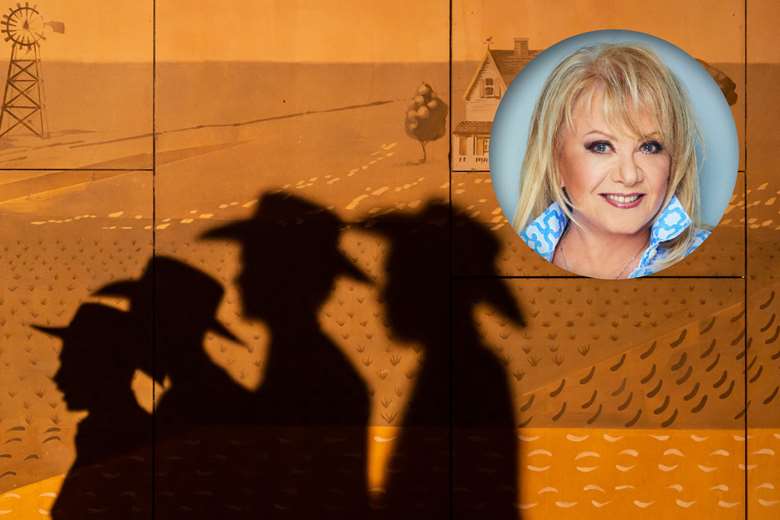 This year, 2023, marks 80 years since the premiere on Broadway of Oklahoma! and that makes it worth celebrating, just to begin with. But of course it's also got the most ravishing score of all time – one that changed the face of Musical Theatre. You've got 'Oh, What a Beautiful Mornin'' for starters, and then 'The Surrey with the Fringe on Top', which I remember particularly well from the movie. I used to love playing 'People Will Say We're in Love' on my BBC radio show – that was a favourite of our dear late Queen and Prince Philip. When I performed for the Queen in a private concert at Windsor Castle, I sang that song especially for the two of them and they looked at each other and you saw the old sparks: it was their song.
I remember this great sense of discovery and the audience going crazy, but that also has a lot to do with the piece itself
I was first made aware of the songs as a child. My mum had all the Ella Fitzgerald albums and Rodgers and Hart and Rodgers and Hammerstein, and Oklahoma! of course was the first Rodgers and Hammerstein collaboration. It kind of broke the mould of Musical Theatre: there was no splashy opening – you heard Curly sing his opening song before you saw him, and the setting was Oklahoma when it was frontier country before it had even become a state. And then you had this Dream Ballet to end the first half – in most traditional productions, anyway – so there were all these different components that added up to the most beautiful construction.
The first time I ever really saw it onstage was the National Theatre revival in 1998 that Trevor Nunn did with Susan Stroman. And there onstage, for the first time for most people in that audience, was this Australian performer called Hugh Jackman – huge Hugh: a tall, handsome, beefcake of a man. And you fell in love with him before he even did anything, just by the mere look of him. I remember Maureen Lipman as Aunt Eller in that production, too. I can still see in my mind her sitting there on the stage and how real it felt. Maureen brings a sincerity to everything she does.
I'd seen the 1955 movie with Gordon MacRae and Shirley Jones and loved it, but seeing that National version, with Hugh, was a whole different ballgame. I remember this great sense of discovery and the audience going crazy, but that also has a lot to do with the piece itself.
People recognise that this is the show that really started the whole development of the 'book musical', and they're responding to that even if they don't know what it is.
I first saw the current West End revival when it was on Broadway at Circle in the Square, and I was seated in the front row on an aisle. I recall clearly the lights being up – and the show started and the lights were still up. And because I was so close, and it was in the round, I remember feeling as if I was part of this community and was in this town. I loved the stripped-back feel of the production and Curly at the beginning, just picking away on his guitar. The entire production felt like a dramatic deviation from the traditional view of Oklahoma! You saw more depth for instance to Jud Fry [played currently in the West End, as on Broadway, by Patrick Vaill], which, in turn, made you understand why Laurey might be attracted to this bad boy. You really felt the character's loneliness and isolation.
I was so taken by it that afterwards I went to the stage door like a fan to wait for Damon Daunno, who played Curly. I waited and waited and out he came and I gushed all over him. We talked at length about the production and then he said that his wife [Kirsty Woodward] came from Kent, and I thought: 'That's quite an unexpected and amusing thing to happen, she and I now both in New York many thousands of miles away.'
I was never lucky enough in my career to be in Oklahoma! but I used to sing Ado Annie's 'I Cain't Say No' as my up-tempo audition number in the 1960s: it's got such brilliant lyrics. But there's also 'Kansas City', 'Many a New Day'… There's not a duff song in it: just look at the marriage of the lyric writing along with those melodies. Those songs get stuck in your head forever.
---
This article originally appeared in the April/May 2023 issue of Musicals magazine. Never miss an issue – subscribe today
'Elaine Paige on Sunday' is on BBC Radio 2 at 1pm; follow her on Twitter @elaine_paige
As told to Matt Wolf