Back to the Future: The Musical (Original Cast Recording) | Review
Marianka Swain
Friday, March 24, 2023
The full, versatile orchestra gives the show's immense likeability a fantastic assist on this crisp recording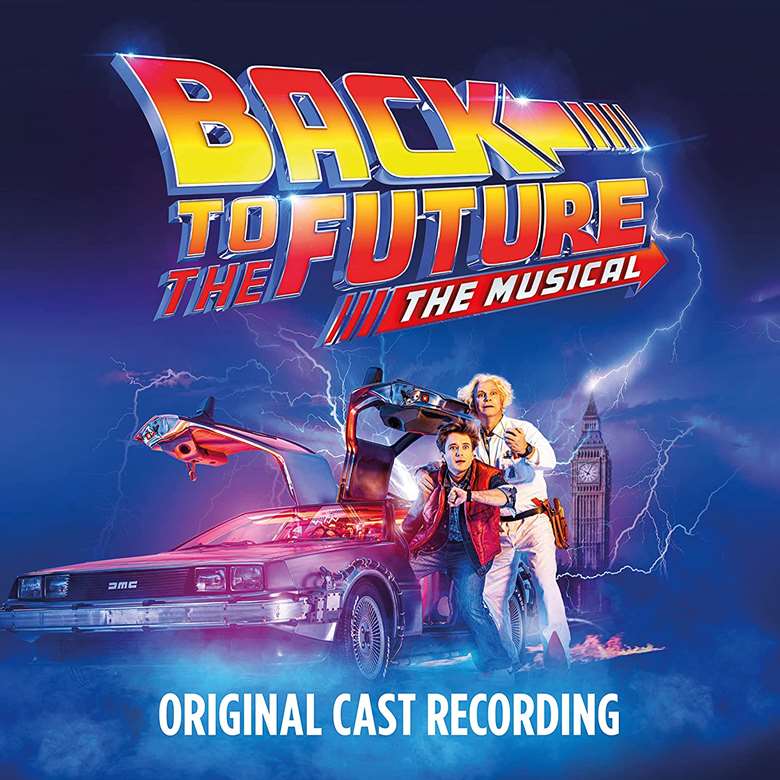 Bob Gale book Alan Silvestri, Glen Ballard music, lyrics
Olly Dobson, Roger Bart, Hugh Coles, Rosanna Hyland, Cedric Neal, Aidan Cutler, Courtney-Mae Briggs, Mark Oxtoby, Will Haswell, Emma Lloyd; The Outatime Orchestra / Jim Henson
Masterworks Broadway / Colin Ingram Ltd
How exactly do you define the score for Back to the Future, the 2022 Olivier Award winner for Best New Musical? There's definitely some rock in there, some pop, some gospel, some traditional ballads. But is that mash-up – which, as bookwriter Bob Gale explains in the recording liner notes, is a deliberate reflection of the movie's genre hybrid – strong enough to stand on its own two feet, without the West End production's time-travelling car and thrilling special effects?
Arguably not. Alan Silvestri and Glen Ballard's score isn't really the wow factor; it's more a serviceable vehicle for the story. And yet it does retain the show's immense likeability – its 1.21 gigawatts of zany fun, with just enough heart to keep you emotionally engaged – and the full, versatile orchestra gives it a fantastic assist on this crisp cast recording.
Shrewdly, the stage adaptation of the beloved 1985 sci-fi comedy keeps the film's most cherished moments, and the soundtrack follows suit. The climax is reassuringly familiar: Cedric Neal, as Goldie Wilson, crooning 'Earth Angel' for the school dance where Marty McFly's parents must get together, followed by Olly Dobson, as Marty, tearing it up on Chuck Berry's 'Johnny B Goode' and leading the company on the retro-cool, toe-tapping number 'The Power Of Love'.
Several songs overtly riff on the show's epoch-hopping premise – like 'It's Only A Matter Of Time', 'Back In Time' and 'Got No Future' – plus there's the odd witty piece of social commentary, such as 'Cake' welcoming us to the 1950s by extolling the unassailable virtues of cigarettes, asbestos, and white men having it all.
Otherwise the emphasis is on character-based numbers, like Marty's duet with girlfriend Jennifer, 'Wherever We're Going' – a particular charmer here thanks to the sweet harmonies of Dobson and Courtney-Mae Briggs – or the appropriately eccentric 'It Works' for scientist Doc Brown. You can really appreciate every comic nuance that Broadway veteran Roger Bart, as Brown, supplies on the recording; in the theatre, the sound balance tends towards the bombastic. He also switches tack superbly for wistful ballad (and the musical's mission statement) 'For The Dreamers'.
Several supporting performers get their moment in the spotlight too. Hugh Coles as nerdy George McFly sighs through 'My Myopia', while Rosanna Hyland, playing Lorraine, channels The Ronettes on 'Pretty Baby'. But best of all is the electrifying Neal on standout track 'Gotta Start Somewhere'.
Though I can't imagine many purchasers will come to this without prior Back to the Future knowledge, the snippets of dialogue included set up the action nicely. It might not be the sound of the future, but it's a thoroughly pleasant way to pass the time.