Carrie Hope Fletcher interview: 'I'm absolutely terrified of being myself onstage'
Tim Bano
Wednesday, July 19, 2023
Carrie Hope Fletcher opens up about overcoming fears, facing adversity, and embracing her favourite version of herself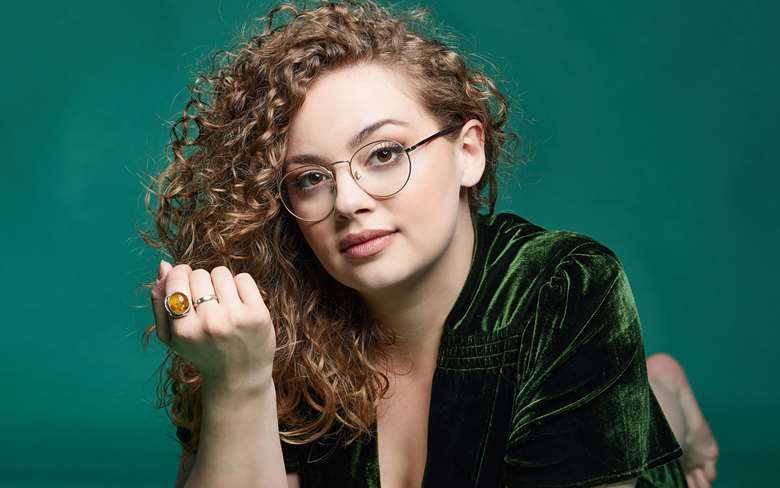 On a recent YouTube video, Carrie Hope Fletcher said this: 'Where I am now, this is my favourite version of myself. I don't think I've ever been able to say I really like who I am right now.'
It was a surprising revelation from someone who has already achieved so much: five best-selling books, lead roles in major West End musicals, amassing a fanbase of hundreds of thousands of dedicated followers through her vlogging, and originating the main character in a brand-new Andrew Lloyd Webber show.
But there have been tough times too: in the last couple of years she has faced the constant asinine chatter of online trolls, a stalker whose persistence meant she had to involve the police, the break-up of a longterm relationship… And originating the main character in a brand-new Andrew Lloyd Webber show.
Sitting in her brightly lit house, huge bookshelves full of publications arranged by the colour of their spines, there is an easiness and a joy from Fletcher. She's just turned 30, and married fellow performer Joel Montague following a whirlwind romance, so it's no wonder she seems happy.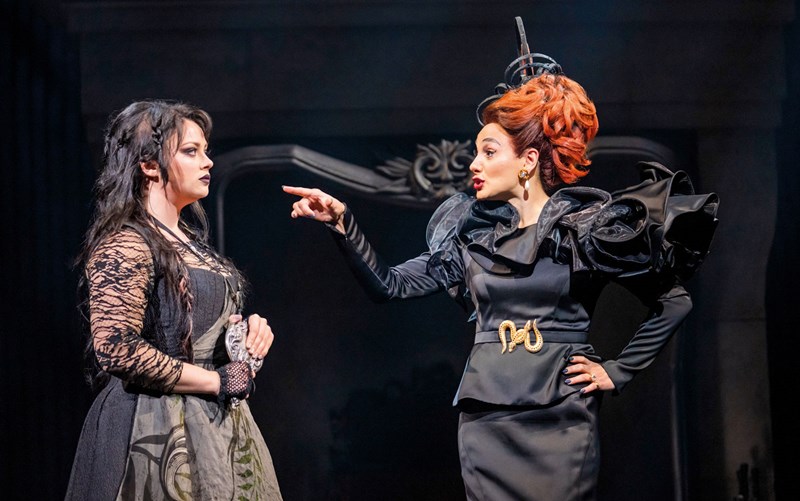 Carrie Hope Fletcher as Cinderella, the role created for her by Andrew Lloyd Webber (Tristram Kenton)
And in just a few days' time she starts her first ever solo tour, something she'd been putting off for a long time. 'I've been friends with producer Jamie Lambert for a while,' she explains. 'He messaged my agent and said: "Would Carrie want to do a tour? I know she did some solo concerts back in 2018 – why has she never done more of them?"
'The plain and simple answer to that is, I'm absolutely terrified of being myself onstage. Then I got into Heathers, then there was the Les Mis staged concert, and Cinderella, and I thought "Oh well, I don't have time to do concerts", but really I had just slipped back into being absolutely terrified of being myself onstage again. He called me on a day of bravery. I knew I needed to say yes, so I couldn't give myself an escape from it. It was a year away, I could blame "past me" later.'
If I'm taking positives from Cinderella, it's that I know I can withstand a lot more than I expected
That year flew by, with all its ups and downs, but meanwhile Fletcher worked the show into something she's really proud of, with a twist that takes it beyond the standard 'park and bark', as she puts it. There are stories from her life and songs from Musical Theatre, absolutely, but there's also 'an element of audience participation'. She doesn't want to give too much away, but essentially she's turned a cabaret-style show into a choose-your-own-adventure game, where the audience picks which stories are told. Each story comes with a song, so they have no idea what song they're going to get.
'It takes the pressure off me a little bit, because I won't know until about five minutes before I go onstage what my setlist is for that night.' How does that take the pressure off, I ask – surely that adds pressure? She laughs. 'Well I can't be stressed about it, because I don't know what to be stressed about! Also, it's more fun, giving every audience a slightly different show each night.' There's a cosy set, 'very warm, very autumnal,' filled with piles of books, and an onstage band. Above all, she says: 'It's a big celebration of Musical Theatre.'
And rightly so. She's been working in Musical Theatre since the age of seven, though her love for it started even earlier when she tagged along with her brother as he went to Sylvia Young's theatre school. But she didn't come from a performing family. Her mum worked as a learning support teacher at a school for children with special needs, and her dad put in long shifts at a Kodak factory as a forklift operator. There were musicals on TV and trips to the West End – 'I remember the first time I saw Les Mis, I fell asleep' – and her dad loved to bring out his guitar.
So it was a surprise when her brother Tom, seven years older, became the lead singer in McFly, and it was a path that Carrie wanted to follow. Aged five she joined Sylvia Young's too, and booked her first gig: a Honey Nut Cheerios advert alongside Kelsey Grammer. At seven, she was cast as Young Éponine in Les Misérables, then Jemima Potts in Chitty Chitty Bang Bang, then Jane Banks in Mary Poppins.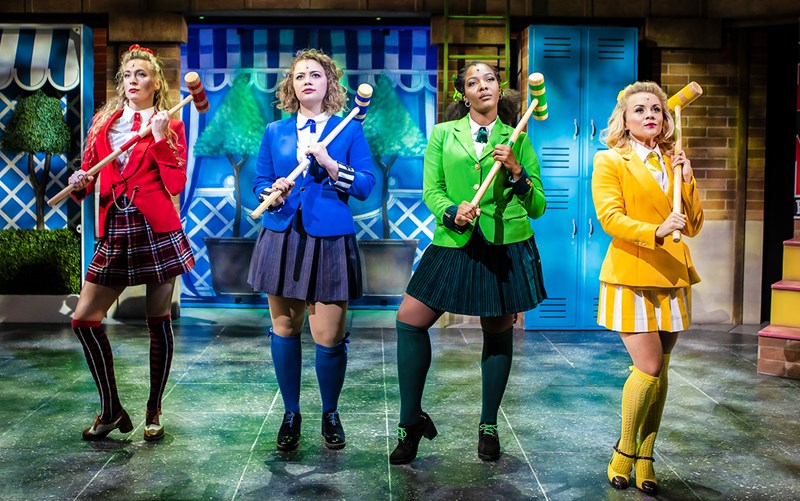 As Veronica (centre) in cult favourite Heathers (Pamela Raith)
The first really big moment in her career, however, came about unexpectedly. In her mid-teens, when Tom was in the midst of McFly fame, she started writing a musical with him. The band was signed to Universal Music, and the Fletcher siblings decided to pitch some of their compositions to the label.
'It all snowballed from there. They signed the soundtrack, recorded some demos and helped pitch it to TV and movie companies.' At the same time, she was approaching the start of A-levels. She was told: if you do your A-levels, you're not going to have enough time to pitch this musical – it's one or the other.
'I thought: "Well, I can always go back to school if it all goes tits up with the musical. I'm 16, I've got time." So I decided to leave sixth form. Then Universal said: "If we were turning this into a movie-musical, who would be your dream director?" And Tom and I both said Steven Spielberg. I mean, we laughed about it. We were like, "Sure, OK, let's throw that name into the ring, never going to happen". Lo and behold, the next week we had a video conference call from London to New York with Steven Spielberg.'
When I went to Les Misérables it was a shock to the system seeing hundreds of people at stage door every night
She and Tom sat in a long boardroom with other film bigwigs pitching their ideas. She says the whole experience was terrifying, especially as they had planned to sing as part of their pitch, but had to scrap the idea at the last minute when they realised the video-conferencing technology wasn't good enough. But the pitch went well, and soon Spielberg's assistant rang, offering to fly them out to New York to meet him in person. 'He'd hired this little room above a random little black box theatre in New York, and we spent six or seven hours with him, just pitching this musical. It was just a lovely afternoon.'
The next couple of years saw development workshops and rewrites until, ultimately, it led to nothing. But in the long stretches of time where she was just at home with no school, no job and nothing else to do, Fletcher started filming herself going about her daily life and uploading the videos to YouTube. There were others like her, doing this thing called 'vlogging', and soon they were attracting viewing figures in the tens of thousands.
So out of the failure of the movie-musical came a different kind of success. It also led, indirectly, to her break in Musical Theatre. When work on the musical had stopped, one of the producers, Mark Samuelson, said to Fletcher one day: 'What happens next? What do you want to do?'
'I said I really want to be in musicals. But at this point I was 19, I'd missed the boat on applying for drama schools that year, and if I went to drama school I knew that I would be a little bit older than all of the people starting, and he said: "Well, I've got a few contacts at agencies, let's set up some meetings." So for two weeks I went to 12 or 13 different agents' offices, meeting with people who were like, "Who is this girl? She's got zero experience, all she has is a YouTube channel – and what even is that?'''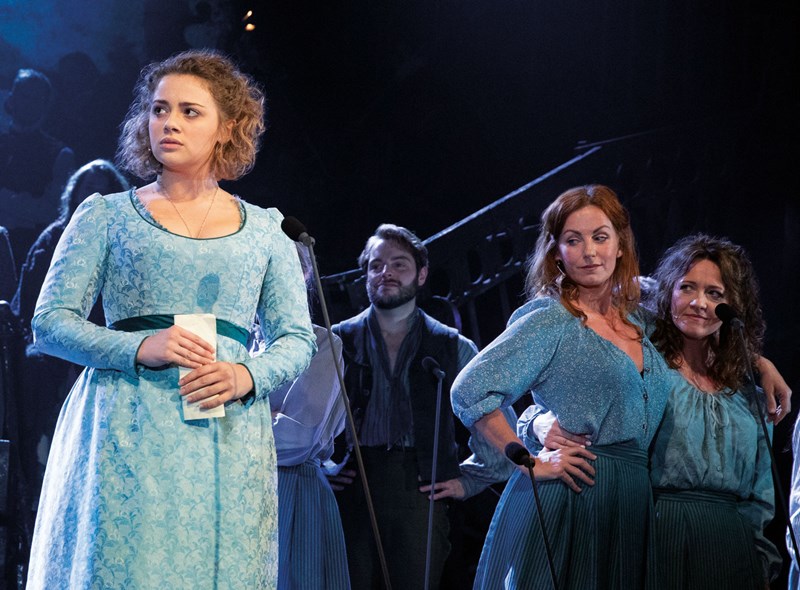 In Les Misérables as Fantine and, earlier, as Éponine – her big break (Matt Murphy)
One agency, Curtis Brown, took a chance. They asked Fletcher what her dream part would be. 'I said Éponine in Les Mis was my holy grail, and they took a really big risk because they put me up for the role instead of putting me up for first cover or ensemble. Four auditions later, I landed the role. I couldn't believe my luck.' Fletcher became the first person ever to play both young and older Éponine.
So for the past decade or so, the backstage vlogs offering insight into the life of a Musical Theatre performer, as well as Fletcher's life more generally, have gone hand in hand with an increasingly juicy series of onstage roles. The last few years have seen her in a UK tour of The Addams Family, the West End production of cult favourite Heathers, and Jeff Wayne's War of the Worlds.
Then came the big announcement in February 2020: there was to be a new Andrew Lloyd Webber musical, it would open in the West End, and Fletcher would be the lead. It's any performer's dream. He had seen her in Heathers, and knew she'd be perfect for Cinderella 'as we'd never seen her before' in a feminist take on the traditional story by Killing Eve and Promising Young Woman writer Emerald Fennell.
But they had one workshop, and along came Covid. There was nothing they could do; the whole show was shut down. While Lloyd Webber worked hard to get theatres back open, fronting campaigns and lobbying the government, eventually, after several delayed openings and false starts, the show opened on 18 August 2021… And closed again less than a year later.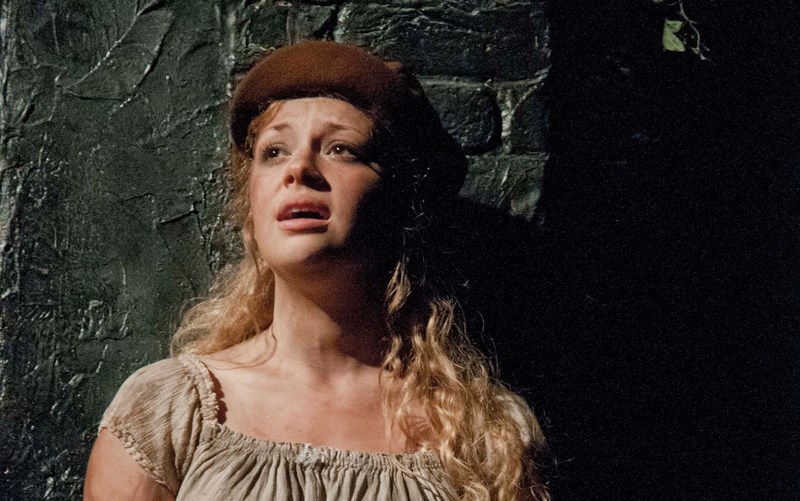 As Martha Percy in Treason (Mark Senior)
Reviews were lukewarm. The cast continued to rehearse after the show had begun, meaning long gruelling days. And it culminated in an abrupt closure with a letter by Lloyd Webber read out onstage by the show's director Laurence Connor calling it 'a costly mistake'. There were boos from the audience, and Lloyd Webber apologised for the clumsy wording.
How does Fletcher look back on it now?
'I do have fond memories because it was a really exciting time, especially coming out of Covid. With all of its shortcomings, and all of the backstage drama, it was an incredible building full of wonderful people. The resident director and MD in Cinderella are now the director and MD on my tour, so I've ended up with lifelong friends from that show. But every time I look back at it, I change my mind. If I'm taking any positives from Cinderella, it's the fact that I know I can withstand a lot more than I expected. Everything from this point onwards will probably be easier, or I'll be better equipped to know how to deal with difficult situations in the future.'
Fletcher felt a pressure, she says, as the title character. She felt she was expected to take charge or make statements which weren't within her power to make. 'All of the actors would get together, often times in my dressing room, or quietly in the wings before a show, going, "How do we deal with this situation?" Decisions were being made that affected everyone in the building, but didn't necessarily affect the people who were making the decisions. Everyone was exhausted. We were trying to integrate changes that were rehearsed in the afternoon into the show that evening, all while battling Covid. People think that actors have way more say than we actually do. I wish we had as much power as everyone thinks we do, because then we'd be able to make some positive change.'

What about audience behaviour, which has been a talking point in newspapers and online recently, with incidents like the brawl that broke out at The Bodyguard in Manchester. Has she noticed it getting worse?
'Funnily enough,' says Fletcher, 'the only time where I've witnessed audience behaviour being so bad that they had to stop the show was The Bodyguard in London. A fight broke out because there was a group of people singing very loudly, and a group of people next to them who didn't enjoy it, and they started punching each other. It's weird that it was the same show. It seems to be the musicals where the music is really famous. If you hear a Whitney Houston song on the radio, you sing along in your car at the top of your lungs, but people can't detach themselves from that. They don't go, "Oh, but my environment's different, therefore this is a place where I'm just going to listen."'
Pop songs, big nights out, drinking… 'It's a dangerous concoction,' says Fletcher. But she's thankfully had few of these incidents while performing herself, save the odd audience member opening a pizza box and proceeding to munch the whole thing on the front row. What worries her more is what happens after the show. Since the age of 19, if she's performing in a show, her large online following have known where to find her six nights a week for months at a time.
'When I went into Les Mis it was a shock to the system seeing hundreds of people at stage door every night. I was used to quietly making videos in my bedroom. It was a very overwhelming experience, and for the most part a positive one, because for the most part, people are lovely. In recent years, though, there's been a sense of entitlement that's crept in too, that people across the industry have noticed.'
It came to a head in 2020 when she was in the concert version of Les Misérables at the Gielgud Theatre and started receiving anonymous abusive letters. At first she felt terrified and isolated. Soon it became clear that this person had been sending notes to other performers too, including her best friend Scott Paige. After a long process, the man was finally charged and jailed.
But still now, certain reprehensible gossip sites post obsessively every few minutes about Fletcher, and just a few days before our conversation, she received a knock at her front door. Her husband answered to a young woman asking if Carrie Hope Fletcher lived there. Fletcher went to the door and asked who the woman was. She said she'd found the address online and had come to warn her 'because other people might not have such good intentions'.
'Was that a threat?' says Fletcher. 'What did that even mean? I filmed the interaction and I reported it to the police, but they said: "Well you know you should expect this from what you do. It's just part and parcel of being very present online." So what if she turns up at my house again and this time she has a knife? What if she stabs me? Are you then going to do something about it?'
It's scary, she says, and she's had counselling to deal with the darker side of being well known. But for now, she is dwelling on the positives. After the solo tour comes something completely different, as she returns to the West End in a straight play called The Crown Jewels written by Simon Nye. 'I met the director Sean Foley on Zoom and he said: "Do you have any questions for me?" I replied: "I have to ask, how the hell did my name come up with that cast? It stars Al Murray, Neil Morrissey, Mel Giedroyc… Who put Carrie Hope Fletcher in that line-up?" But he said he'd seen Cinderella and thought I would be a good fit. It's a comedy, it's got an amazing cast and I'm very excited.'
Besides, this isn't Fletcher's first foray into straight theatre: last year she was cast in Bertolt Brecht's The Caucasian Chalk Circle at the Rose Theatre in Kingston – although she reckons it was slightly under false pretences. 'It was pitched to me as a play but it was absolutely a musical. Christopher Haydon [the director] will hate me for saying that. He kept saying: "It's a play with music." I was like, "It's absolutely not. There are 38 songs in it!" It had more songs in it than Les Mis!'
And then, after The Crown Jewels, who knows? 'I'm 30 years old,' she says. 'I've just gotten married. I feel like there's a personal part of my life which has opened up, which doesn't have anything to do with my career. It's a lesson that I've been taught by the pandemic, and very much by Cinderella, that you cannot make your job the be-all and end-all of everything that you do. Regardless of whatever my productivity is on any given day, I'm still a human being and I'm still worthy of love and respect.'
---
This article originally appeared in the June/July 2023 issue of Musicals magazine. Never miss an issue – subscribe today