Behind The Song: Leonard Bernstein and Stephen Sondheim's 'America' from West Side Story
Joe Stilgoe
Thursday, June 22, 2023
Sondheim and Bernstein's masterpiece blends celebration and social commentary, and redefined musical theatre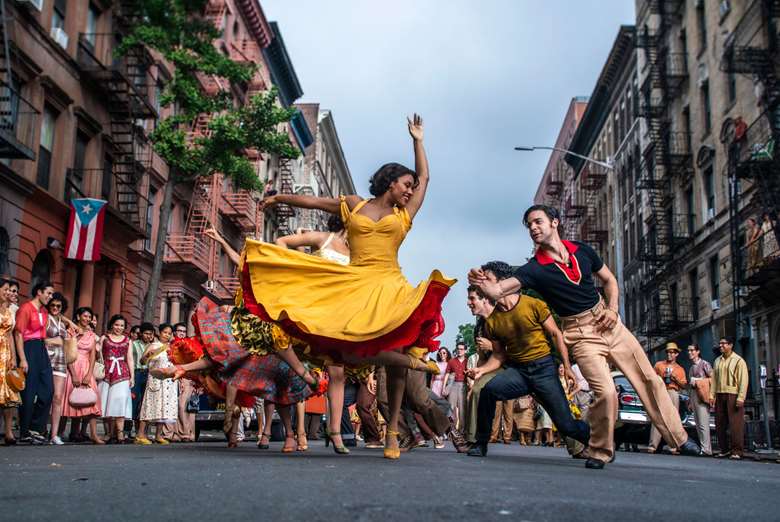 Claves begin. The click of wood on wood. That happy, insistent rhythm – it could be a bird chirruping away in a fig tree, or children playing with sticks in the park, but to many it's just the sound of home. It's a clave rhythm, meaning 'keystone' in Spanish, the basis of all Latin American music. The song is about home, about place.
'I like to be in America.'
Leonard Bernstein's parents were from Ukraine. Stephen Sondheim's grandparents were from Germany and Lithuania. They knew what it was like to seek a new land for a better life.
'OK by me in America.'
The same goes for Irwin Kostal and Sid Ramin who helped Bernstein arrange and orchestrate the music.
'Everything free in America / For a small fee in America.'
West Side Story. We know the tale, the intractable link with Romeo, Juliet and the tragic confusion precipitated by the tension between two rival factions. Tony is American, from America. Maria is from Puerto Rico, and like her friends and family, desperate to make a new home. In America.
How can a song musically be so celebratory and such great fun while also containing social commentary on poverty and persecution?
We've met the Jets, the Sharks, we've had 'Something's Coming', we've even had 'Tonight', the beginning of which possesses I think the loveliest tune anyone has ever written.
'Only you, you're the only thing I'll see forever…'
They're already in love. The balcony scene makes us fall for these doomed teenagers. But we need to know more about Maria, more about where she's from.
So, we go to Puerto Rico.
'Puerto Rico, you lovely island / Island of tropical breezes… Always the pineapples growing.'
Pineapples, yes please!
'And the money owing.'
Ah. OK. Sondheim's earning his corn now: he goes hard on the sarcasm – his natural wit and cynicism beginning to distort Bernstein's beautiful, lilting seductive music. The time signature changes to 6/8, normally a waltz. But it's not a waltz. Where are we? The rhythmic pulse that propels the song kicks off – Bernstein writes 'Tempo di Huapango'. Huapango is a dance rhythm from north east Mexico. More fusion here: it's an essence of the Caribbean, but not necessarily from Puerto Rico.
This feels like something new (certainly in 1957) – they were bringing New York jazz instrumentation together with Latin American rhythm and European dance time, but all with a very American diatonic harmony that owes more to folk than to jazz.
It's a heady mix, and coming at a time when rock'n'roll had started to sweep the country.
'I like to be in America / OK by me in America.'
But we already know these girls have discovered the truth.
'Industry boom in America / Twelve in a room in America.'
This is the reality of their new life, and the songwriters are twisting the knife. The score starts in 4/4 time. Very common, very American. The clave makes it sound different though – it doesn't sound like compound time, it's jarring. Then we get the orchestra joining, celeste, guitar, flute, soft instruments playing triplets (across the beat) like gentle waves creeping up a beach. This is the introduction of the 6/8 time that eventually takes over the song and creates the energy that gives it that incredibly exciting lift-off later on.

Once we're at the chorus, we move between C major for the song and A flat major for the dance sequences, two unrelated keys which when brought together create something great and dramatic. The lyrics have changed over the years, Sondheim amending for the theatre and film versions, but in the latest version we have:
'I think I go back to San Juan / I know a boat you can get on / Everyone there will give big cheer / Everyone there will have moved here!'
A gag to close before the huge dance sequence which takes us to that final key change to E major. It's cooking now, with the orchestra almost in unison, and Jerome Robbins's choreography bringing in extra claps and stamps and stomps.
It's all so brave and exciting and still, nearly 70 years on, one of the most exhilarating moments in theatre.
Sondheim and Bernstein changed Musical Theatre. Taking what Hammerstein, Rodgers, Lerner, Loewe and others had started, which was to introduce real drama and emotion into a traditionally frothy art form, they brought grit and wit and street slang into a classical story of love and tragedy. It's a funny one this: how can a song musically be so celebratory and such great fun while also containing social commentary on poverty and persecution? Maybe it happens more than we know – you hide the message in the music, and it might do more good than standing on a soapbox with a megaphone.
West Side Story is the perfect mixture of tragedy and comedy, and this song its best example.