'Music can transcend what can't be said': Maimuna Memon introduces her show 'Manic Street Creature'
Sarah Kirkup
Friday, October 13, 2023
The Olivier-nominated performer talks to Musicals magazine about bringing her award-winning Edinburgh Fringe musical to London's Southwark Playhouse
Anyone who saw Maimuna Memon in Standing at the Sky's Edge at the National Theatre earlier this year will never forget her. As edgy Scottish Nikki, intent on winning back love of her life Poppy (Alex Young), she was mesmerising – by turns brash, manipulative and vulnerable – and vocally one of the show's standout performers with Richard Hawley's slow-build 'Open Up Your Door'.
Memon is not easily pigeon-holed – and that's just the way she likes it. Growing up in Lancashire within a musical family (her mother, a nurse, is also a traditional Irish fiddle player), she learned the violin from a young age and quickly taught herself guitar, piano and harmonium, writing her own music in the process.
Her first encounter with Musical Theatre was at secondary school, when a teacher persuaded her to audition for Thoroughly Modern Millie. Although she then went to drama school, the Musical Theatre bug never really left her. She also continued writing music – now for shows she and her fellow acting students were performing.
When she graduated, a group of them formed Wildcard Theatre Company (where Memon is also resident composer). At the same time, she was cast as Florinda in Into the Woods at Manchester's Royal Exchange. A two-pronged approach embracing both music theatre and Musical Theatre had, even at this early stage, been established.
Manic Street Creature, a three-hander comprising underscored spoken word and emotion-filled songs to explore the trauma of caring for someone suffering from mental health problems, premiered in Edinburgh last year to great acclaim. Memon now brings it to Southwark Playhouse Borough this October for a limited run.

What's the story behind Manic Street Creature?
It's a personal story. A lot of people in the pandemic were going through a mental health crisis or supporting someone who was. Mental health is often discussed from the perspective of people going through the crisis themselves, but it's important to talk about it from all perspectives.
Everyone I've spoken to say they've had that experience of 'secondary traumatic stress' but we don't see it represented. People feel guilty talking about it, they say 'I'm struggling but this other person is struggling more than me and I should be able to help them'.
Music is best way of tackling subjects like this because music can transcend what can't be said.
What should people do if they're struggling to support someone?
The most important thing is to talk about it. And to seek help. There are charities that support mental health carers. We've got a free post-show Q&A on 26 October and in fact one of the panellists works for the Mental Health Foundation. It will be interesting to hear what she has to say.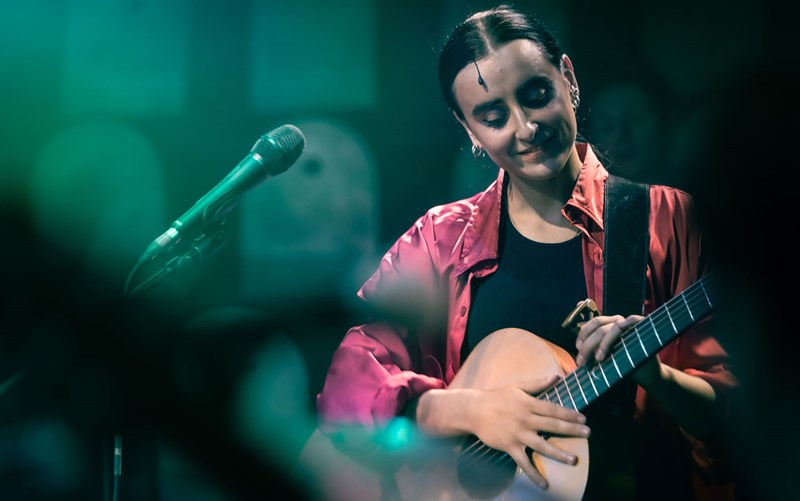 Explain the style of the music…
It's a concept album musical, tracking two people and their love story and their own and each other's mental health. Each 'track' in the show's recording-session setting is a track the character Ria has written; each song takes us back to a memory. The music is a combination of folk, soul and indie pop.
Four of the tracks are available on a new EP, released in its entirety on 13 October…
The EP's called 'More Than I Bargained For'. Three tracks were released previously, and the fourth one, 'Father of Mine', has now been added. I'd love to release a full album of all nine tracks from the show in the future.
How do you prepare yourself for such an intense performance, night after night?
It's a big challenge. I play five guitars, piano and harmonium. And I sing all the songs. The two other fantastic musicians sing backing vocals but I'm the lead vocalist. But it's not just physical, it can be psychosomatic too. The brain has such an impact on physiological health. If you start worrying that you'll lose your voice before a show, it can become a self-fulfilling prophesy. So I go for the holistic approach. I look after my physical health – no drinking or smoking, plenty of water and sleep, eating well. And I'll do yoga and physical exercise. But it's also important I have my weekly therapy session, and do things I enjoy doing that relax me. Positive affirmations play a big part too.
How important is it that you're not limited or labelled in your career?
You don't have to focus on one thing. For me, my USP is bringing songs you might hear on record to the stage, in a show that feels part gig, part show. I love writing for shows – I've been doing it long before I knew that composition could be a career. But Musical Theatre holds a dear place in my heart too, and I'd love to do more. I'd love to try and make my music as accessible as possible to as many difference audiences as possible. When people say 'I don't like Music Theatre' I like to challenge them with 'Well, do you like music? If so, there's some sort of Musical Theatre out there for you'.
Manic Street Creature is at Southwark Playhouse Borough from 19 October to 11 November – visit southwarkplayhouse.co.uk
Listen to the EP 'More Than I Bargained For' on Apple Music: