Bernadette Peters interview: 'Any song that I sing has to be one that I connect to deeply'
Matt Wolf
Tuesday, October 17, 2023
Bernadette Peters talks to Matt Wolf about her determination to keep the Stephen Sondheim's memory alive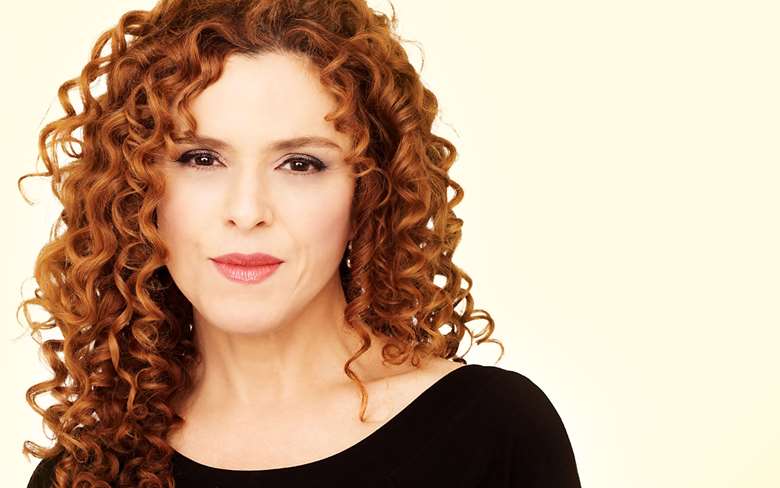 'You keep moving on.' That lyric, from Sunday in the Park With George, was first sung in the show's 1984 Broadway premiere by Bernadette Peters, and its sentiment could well apply to Peters herself. Nearly 40 years after she helped birth a Stephen Sondheim musical that can fairly be said to have changed the face and shape and sound of Broadway, Peters continues to move on. At the ripe young age of 75, Peters is this September finally making her West End debut in a proper run of a show, as opposed to one-off concerts and the like.
Unsurprisingly her autumn opening takes as its title a second Sondheim lyric, Old Friends. Peters was a crucial part of the original gala version of this show, produced by Cameron Mackintosh at the Sondheim Theatre in May 2022 to honour the late composer. (Mackintosh is at the helm again.)
Few in attendance that evening will forget first glimpsing the mysterious caped figure in red who appeared, back to the audience, her signature curls obscured from view. She turned around and there Peters was as Little Red Riding Hood from Into the Woods, the Sondheim musical which she premiered on Broadway three years after Sunday, at the time playing not Little Red but the spell-obsessed Witch. 'I know things now,' she sang 18 months ago in concert, and Peters, you feel, very much does.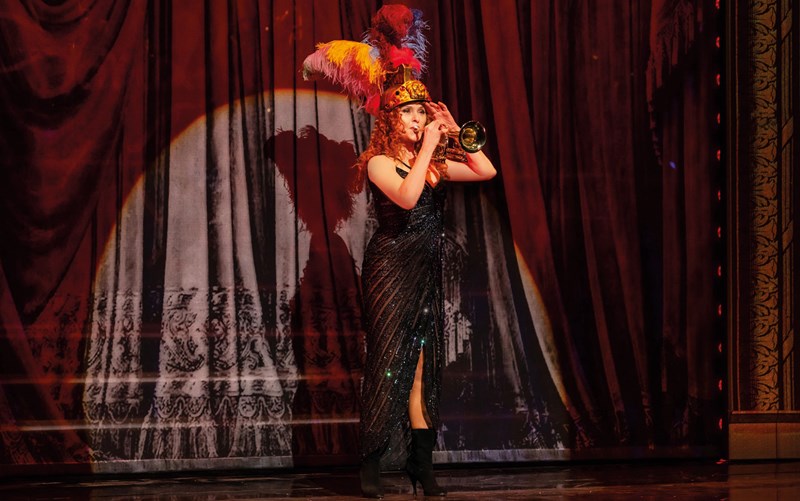 Old Friends 2022: 'You Gotta Get a Gimmick' (Gypsy) (photography: Danny Kaan)
For the actual 16-week engagement of Stephen Sondheim's Old Friends, this Broadway luminary has assumed above-the-title status (alongside Lea Salonga). And what could be more appropriate for a long-overdue West End debut than a revue tethered to the output of the composer-lyricist, Sondheim, with whom Peters is primarily identified?
'Any time I can sing Steve's music is a privilege and a joy,' she told me during a Zoom call from New York in early July, 'and any time I can honour him, I want to: I feel his loss.' Why hasn't she headlined a London show before? She recalls two previous West End offers: 'One came at a time when I just didn't want to leave home; in the case of the other, I didn't care for the material.'
I thought I was just from a different world and was someone [Sondheim] probably wouldn't be interested in. I limited myself, and I was wrong
She could hardly be more sympathetic to the work than she is with Sondheim – which is saying a lot, given an extraordinary seven-decade career that spans Frank Loesser and Lionel Bart early on, as well as Jerry Herman (Mack and Mabel, Hello, Dolly!), a single foray into Kander and Ebb (a 1996 workshop of their much-reworked musical version of The Skin of Our Teeth), Marvin Hamlisch (The Goodbye Girl), and the Andrew Lloyd Webber and Irving Berlin titles for which she won her two competitive Tonys – Song and Dance and Annie Get Your Gun. 
In 2012 Peters was awarded a third, non-competitive Tony for her pioneering work with Broadway Barks, the animal charity she co-founded with the late and much-loved Mary Tyler Moore, and which took place once again on 8 July in Broadway's Shubert Alley.
Nor is that an incidental aspect of her life. Peters lives for her two dogs, and by the time our hour-long chat was over, I was ready to adopt a pooch myself. She talks of re-establishing, with Elaine Paige, West End Woofs as a London equivalent to Broadway Barks, and so vividly describes her pit bull ('afraid of the rain') and labradoodle ('with a hundred different things in him') that I, too, feel her urgency when she talks of making sure these dogs would be well looked after in New York before she'd commit to a lengthy stint in London. First things first, and rightly so.
Among humans, few have been as resonant for Peters as Sondheim, as befits a performer who, then barely a teenager, appeared in 1961 in the ensemble of the second national tour of Gypsy – lyrics, of course, by Sondheim, alongside Jule Styne's score – only to accede over time to the seismic assignment of Momma Rose on Broadway in 2003. Peters's performance of 'Rose's Turn' at that year's Tony Awards ceremony remains the stuff of legend (check it out on YouTube): hair-raising in its power and prised from deep within this small but mighty matriarch's bruised, damaged heart. 
You have only to scan the setlist for her recent trio of concerts in Pasadena, California, to see where her emphasis lies. The evening began with, yes, 'Old Friends', from Merrily We Roll Along, before encompassing nearly a dozen other Sondheim titles. And when Broadway.com marked Sondheim's 90th birthday during the pandemic with a (thrilling) online concert, the sequence of performances ended with an a cappella version of 'No One is Alone', recorded in the dining room of Peters's West Side apartment (again, on YouTube). Peters thought at the time that those in charge of the online event might want adjustments – but no: 'They said, "We're just going to leave this as it is."'
Peters herself has plenty to say about Sondheim, whom she first met briefly ('when I was a kid') during a dinner at Joe Allen restaurant in Manhattan. But the two didn't work together until Peters was cast as Dot/Marie in Sunday in the Park. 'I just remember being given the title song and thinking, "Oh wow, this is something."' She was, she recalls, immediately struck by the technical precision it required, and the vocal stamina, too.
As other songs would arrive in rehearsal, Peters was transfixed. 'I can still recall feeling that this was the most glorious experience I could ever have. Every time a new song would appear, we would go, "What is that?", and Paul Gemignani [Sondheim's conductor of choice for years] would shape the music on us and with us.'
Before long, she was realising the truism that has come to define her career: 'Steve writes from such a deep, deep place. I remember when Mandy [Patinkin, as Seurat] and I were given "Move On", thinking, "This is a wonderful song", and then you really start to live in it and realise that it's also got an important – I don't want to say message, since Steve hated message songs. But it talks to something important in life: how we can get so stuck and how we sometimes just have to do something to make a change.'
Peters's connection to her material is profound, though the performer I first saw, when I was a stagestruck 10-year-old, was the comedienne with the brassy voice in the short-lived 1971 Broadway revival of On the Town, for which she was Tony-nominated. Since then, with specific reference to Sondheim, I've seen her as Dot and the Witch, as Momma Rose and as both a surpassingly abject Sally in Follies and an achingly tremulous Desirée in A Little Night Music.
Any song that I sing has to be one that I connect to deeply, and I have to find it in a way that's brand new to me
As regards Follies, I recall Sondheim himself telling me once that Peters's was the first Sally whom he felt would exit the party at which that show takes place only to head directly toward death. I've rarely seen a stiller, sadder 'Losing My Mind', as if the character were confined to a psychic paralysis.
Meanwhile, her 'Send in the Clowns' (also found online) possessed an emotional transparency at the opposite end of the spectrum from the theatrics of Catherine Zeta-Jones, who preceded Peters in Trevor Nunn's production on Broadway. Had Peters opened that revival in New York, the Tony that went to Zeta-Jones would surely have gone Peters's way, too.
From where does she summon such pathos? 'Any song that I sing has to be one that I connect to deeply, and I have to find it in a way that's brand new to me.' That's not to discredit research, though. When Peters was offered the role of Dolly Levi, taking over from Bette Midler in Hello, Dolly! early in 2018, she read the Thornton Wilder play (The Matchmaker) on which Jerry Herman's 1964 musical is based.
She also went to the Lincoln Center Library to be reminded of the legendary Carol Channing's occupancy of a role that Peters could then reshape. 'I thought, "Let me see what Carol did," but after that, it was about "Who is this person to me?" I always want to make it as personal as possible so that I'm never copying anybody.'
When I first interviewed Peters, in 1998 on the occasion of her exhilarating Royal Festival Hall solo concert that September which was recorded live, she spoke to me of 'never thinking that I would ever be in a Sondheim show: I thought I was just from a different world and was someone he probably wouldn't be interested in. I limited myself, and I was wrong.'
Twenty-five years later, Peters has indeed moved on to a place of connection with the work and the man that she speaks of with something approaching awe. 'We did a reunion of Into the Woods [in 2015],' Peters recalls, 'and I thought, "Here I am playing the Witch 28 years later after having lived 28 years more."'
She continues: 'It was such a privilege to go back to something you know well and to bring all this new information to it: it's as if you learn about life in Steve's songs and his music, and I find myself wishing I could be in his next show so that I could learn more.' In fact, Sondheim's final show, Here We Are, is opening in New York at The Shed this autumn while Peters is performing in London.
Every time an additional song would appear in Sunday, we would go, 'What is that?'
One feels the decades dotted with memories as befits this one-time interpreter of Dot. Peters speaks of going with Sondheim to a Seurat exhibition at the Metropolitan Museum of Art in New York. 'I heard him chuckling and didn't realise that I had started singing "Color and Light" [the song from Sunday]. I had no idea I was even doing that.'
Peter adds: 'When we did his 90th birthday [concert] and I spoke to him afterwards, he was amazed at how well his songs stood alone.' Indeed, during our interview she falls more than once into an impromptu Sondheim recital – a beloved snippet of music here and there from a performer who saw the original Company in New York but missed the first productions of much of his later work during the 1970s when she was living in LA. 'He never thought of the songs outside of the show but wrote them for the characters. That's why the show that Cameron is putting together is so wonderful and entertaining: each number is like a play – an experience – of its own; it's very satisfying.'
Mackintosh, in turn, is in a good position to track the progression of a performer he first got to know when he was co-producing the Broadway version of Song and Dance, in which this performer born in Ozone Park, Queens, broke hearts nightly playing a lovesick Englishwoman let loose in Manhattan.
'Bernadette's spirit has never changed, which is what makes her ageless,' Mackintosh told me within the same week that I chatted to Peters. 'She's a brilliant actress, and what I've noticed is that as her voice changes, she uses her instincts as an actor not to close off anything but to gain a new level in what she gets out of the material.'
Peters can eviscerate a spectator emotionally and raise joyful laughs, as well. I shan't soon forget her in Hey, Mr Producer!, the 1998 two-night-only tribute to Mackintosh in which she sang 'Unexpected Song' from Song and Dance and apologised to the London audience for any faults with her English accent: a sweet gesture that, as it turned out, was also wholly unnecessary.
In the second act, she appeared as a trumpet-toting Mazeppa, one of the strippers from Gypsy. Look for that blissful image again, but improved, in Old Friends. Says Peters of further trumpeting skills acquired over the years, 'I think I'm better this time.' The song 'Old Friends' itself grows in meaning all the time, too. Last April, she joined Kristin Chenoweth to sing it at a 90th birthday celebration, this time not of Sondheim but of her dear friend, Carol Burnett. 'Carol came to see me in Dames at Sea when I was like 20 or 21 and put me on her show. I knew her when she was starting out and we've been through ups and downs together. She's just remarkable.'

What's extraordinary, too, is Peters's ongoing commitment to the theatre, notwithstanding those years in Hollywood making movies like The Jerk and Pennies from Heaven, during which time she was in a relationship with Steve Martin, her leading man on both those films. (She went on to marry Michael Wittenberg, an investment adviser, who was killed in a helicopter crash in 2005, age 43.) She starred as Eleanor in the film version of the 1980s Tama Janowitz bestseller Slaves of New York and is fondly remembered for an array of TV appearances ranging from The Muppets (one can imagine Kermit as one of her pets) to Smash and the recent TV series High Desert, playing Patricia Arquette's mum.
But the theatre is home, no one more so than Sondheim. Might she like to have a go at Mrs Lovett, at this point the obvious role from his repertoire of ladies that has so far got away? 'Maybe somewhere [in] the future, I don't know.' In the meantime, she's full of praise for both the small-scale pie-shop Sweeney Todd that travelled from London to New York and the current, contrastingly starry Sweeney revival with Josh Groban and Annaleigh Ashford: 'To hear those two with a full 26-piece orchestra is just so fabulous.'
How does Peters keep her evergreen looks? 'I exercise and eat a nice amount of protein, which puts muscle on your bones and keeps you standing up.' (Meat vanished from her diet years ago.) 'I do physically take care of my voice and my body: I go to the gym, lift weights, take singing lessons, keep everything up and running.' Vocalising happens in the shower as she preps once more for an eight-performance week in which, Mackintosh says, the cast of Old Friends will all understudy one another, Peters gamely including herself in that collective approach.
So don't look for Peters to put her feet up any time soon. 'It's funny, I remember when I went to see Lena Horne's one-woman show on Broadway thinking, "I hope I'm like that when I'm 55." And now I'm way past that. I like flexing my muscles, and if I sit back and think about it, I feel pretty grateful that I'm able to do what I do. People say the word 'retirement' and I don't see any reason to do that. I live in the moment right now, and when I come out to do a show, that's the moment that matters.' 
---
Stephen Sondheim's Old Friends is at the Gielgud Theatre from 16 Sep – visit sondheimoldfriends.com
Never miss an issue of Musicals magazine – consider subscribing today