Kimberly Akimbo (Broadway Cast Recording) | Review
Jim Munson
Monday, May 22, 2023
Kimberly Akimbo is the most charmingly upbeat cast recording you're likely to hear this year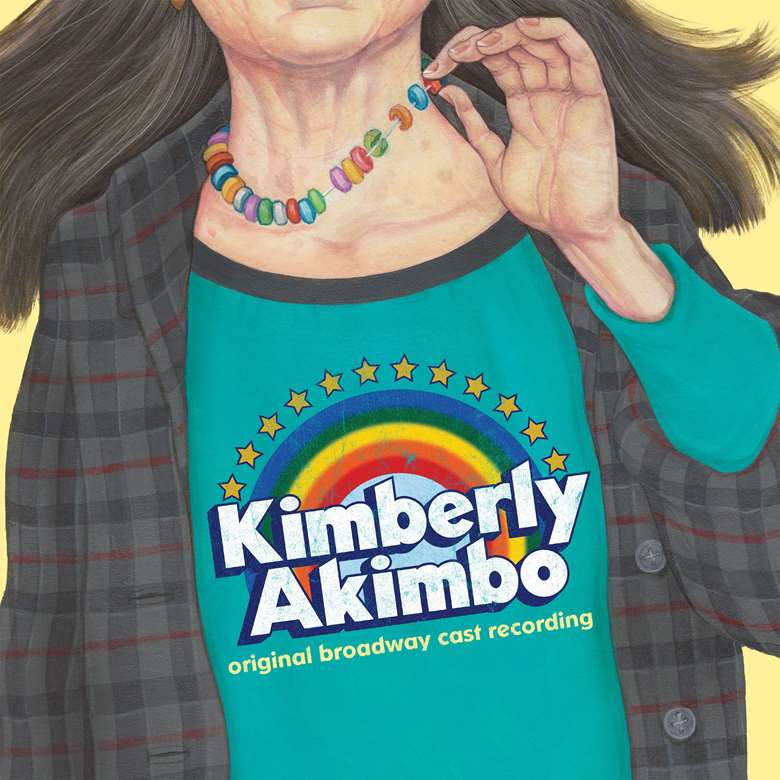 That Kimberly Akimbo is the most charmingly upbeat cast recording you're likely to hear this year (or next) is somewhat surprising given the show is about a teenager with a rare accelerated-ageing disease that is almost certain to kill her before she turns 20. But then again Kimberly Akimbo is not your standard musical. Jeanine Tesori's offbeat melodies and David Lindsay-Abaire's equally off-kilter lyrics are perfectly intertwined to tell this tale without an ounce of self-pity, but with plenty of heart and a generous dose of outrageous comedy. With a cast of only nine, it may be a small show, but its ambitions are considerable.
The first track, 'Skater Planet', takes place at a suburban New Jersey ice rink where a gaggle of high school nerds dream of finding love. The tone recalls the American 'Afterschool Special' series of squeaky-clean TV movies aimed at tweens and typically revolving around societal issues or serious illness (eg divorcing parents, kids with cancer etc).
Clark's voice ranges from a girlishly throaty mezzo up to a mature heartrending soprano
The song gains depth once Kimberly enters as the new girl in town. Victoria Clark gives a sardonic spin to her first line, 'It's Saturday night in Buttcrack Township', making it clear that Kim's larger problem is her peripatetic, dysfunctional family, not her disease.
Clark, one of the wonders of Musical Theatre, dives into a role that fits her unique talents like a glove. Her unicorn of a voice ranges from a girlishly throaty mezzo up to a mature heart-rending soprano, thereby allowing her to simultaneously suggest Kimberly as the 60-something woman she appears to be and the 15 year old she truly is. The charm factor amps up further with the appealing Justin Cooley as Kim's potential suitor. His guileless, adenoidal tenor beautifully captures the quirks of an adolescent misfit.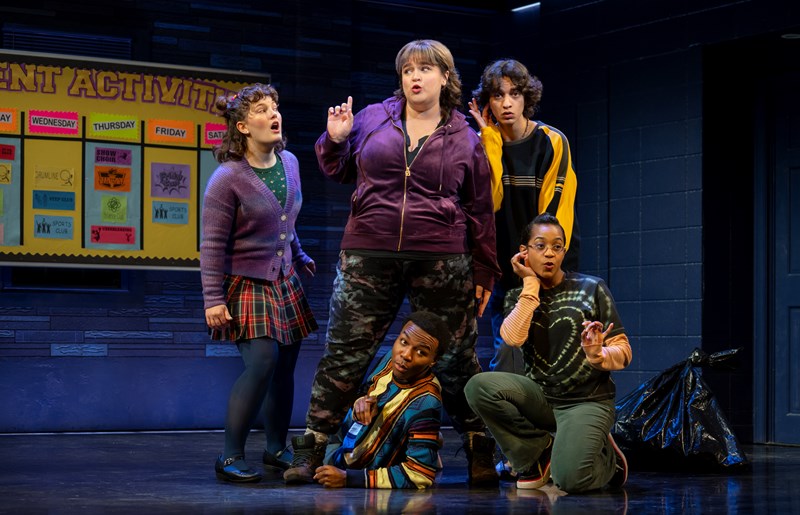 Bonnie Milligan (centre) as the gleefully profane Aunt Debra in Kimberly Akimbo.
Photo: Joan Marcus

Just when the recording threatens to become a bit twee, it gets hijacked by the tempestuous Bonnie Milligan as Kimberly's gleefully profane and possibly murderous Aunt Debra. Milligan's volcanic voice contains a multitude of colours and she knows just how to use each of them to prime effect.
John Clancy's jaunty, pop-inflected orchestrations allow the eight-musician band to create an astonishingly varied soundscape. Slashing guitars and drums are augmented by instruments we don't often hear in the theatre, such as ukulele and electric organ, to keep things bouncing along right through to a closer ('Great Adventure') so sweetly buoyant it just might make you cry.
---
ALBUM DETAILS
Jeanine Tesori music
David Lindsay-Abaire book, lyrics
Cast Victoria Clark, Steven Boyer, Justin Cooley, Alli Mauzey, Bonnie Milligan et al
Band / Chris Fenwick
Ghostlight Records